The Brewery Of Your Dreams
The Book of Man visits Freedom Brewery in Staffordshire to discover a beer-making idyll which makes it clear what sustainability actually means - and why it's important.
In every London bath, beer is being brewed. In every London street there are new tap rooms with new beers with names like 'FuckHead Brew' and 'Council Ale', or for traditionalists, 'Jester's Anal Warts'. In every London mouth there is a taste of these beers, for once you have tasted them, you can never untaste them. A certain acridity lingers, a foulness of the breath persists, and a memory remains of a pint grimly sipped for half an hour before being abandoned. Too strong, too undrinkable, just too much.
While the beer boom of recent years has produced a proliferation of choice which has taken the market beyond the realms of old men moaning about chilled John Smith's, its spirit of adventure has led to a point where the 'anyone can do it' philosophy has resulted in the knowledge that 'some people should be stopped from doing it'.
I'm a lifelong ale drinker, but have found myself retreating to Estrella or Red Stripe, just because I have no idea what I'm going to be getting if I order a 'Spatchcock's Hole' on draft, or a can of 'Anarchy in the BrewK', and quite honestly, I can't be arsed with it all. I want something I can drink and enjoy over a few hours with friends, not something that will render me toilet-struck for most of that time. I want an unobtrusive companion beer, not a main event with a jester's hat on. Or a jester's anal warts for that matter.
Cut to The Book of Man team heading out of London into the countryside on the train, arrowing out of the graffitied grey and into the lush greens. I'm sure it's as fucked up out here as anywhere else in the UK, but sometimes a literal change of scenery can do you the world of good, and the mere sight of rolling Staffordshire hills out the window brings satisfaction of a more enervating kind than we're generally used to.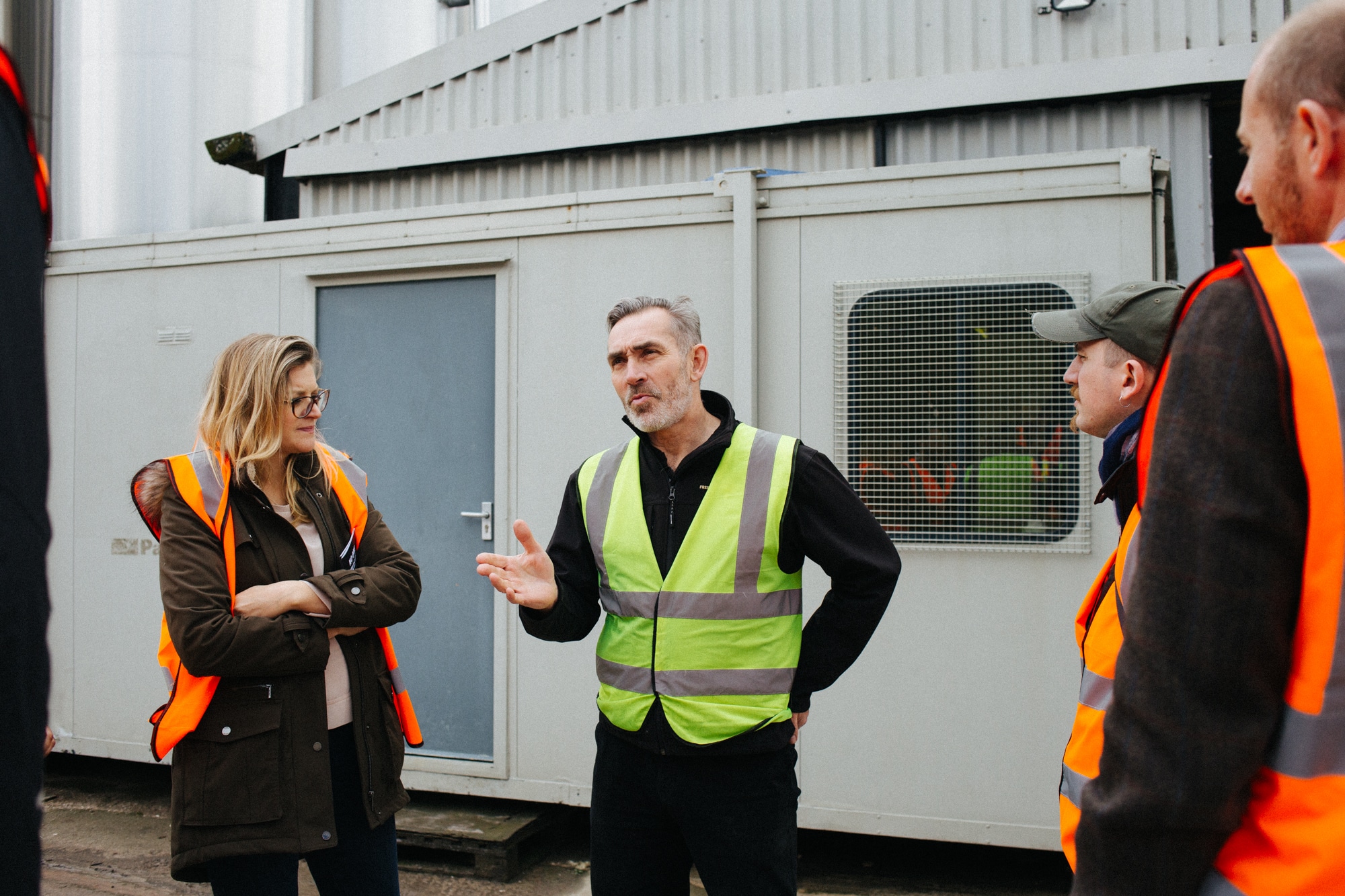 We get out at a station in Rugeley, close to Burton-on-Trent, and taxi our way into the hills, hunting for beer. Decent beer. Turns out that's not all though, as we emerge through a tunnel of trees to be greeted by the sight of what must be the most picaresque brewery in the country. Nestled in the side of a valley overlooking the kind of scenery to get Thomas Hardy's moustache perky, is Freedom Brewery, the vegan, sustainable beer brand who have invited is to see, well, just how vegan and sustainable a beer can be.
Housemartins circle the main building as we're greeted by Head Brewer Jonathan Smith. "Born in the city, brewed in the country," is the way he introduces Freedom, because the brand did begin as one of those small cool London breweries in Soho in 1995, before heading out here a decade later, determined to expand operations while retaining the independent spirit of the brand. Only when you break from the herd can you become a pioneer, and so it has proved.
Here Freedom found a place with its own water source, which could indeed be the spiritual source of the rising fortunes of the company. "In that clump of trees," Jonathan says, gesturing to a spot a little way off, "there's a small brick shed with an endearingly tatty door, which is where our borehole is located. We're tapping into a water source 64 metres below the ground. We're not bringing water in from across the country, we're extricating it from our locality." Environmentally speaking, it's perfect then, but the water also has certain characteristics which have an impact on the beer. Says Jonathan, "The source is unique – no one else brews in it. And it has particular characteristics which do impart a flavour on the product. It's on the harder end of the spectrum, which is unusual, but I've always taken the view that historically brewers always looked to the natural materials in front of them, so we chose not to change it. It's verified safe of course, and we have an abstraction licence which shows we're not depleting the water there – it's all sustainable."
Sustainability is one of the buzzwords of our time when it comes to modern consumers' tastes, which can having a blanding effect, making it an almost abstract term when you hear it. But when you actually see it in action, it's a different story. Here the water not only comes out of the ground a few hundred metres away to go into the storage tanks of the brewery, when the waste comes out the other side, it is treated and fed back into the environment in an ingeniously natural way.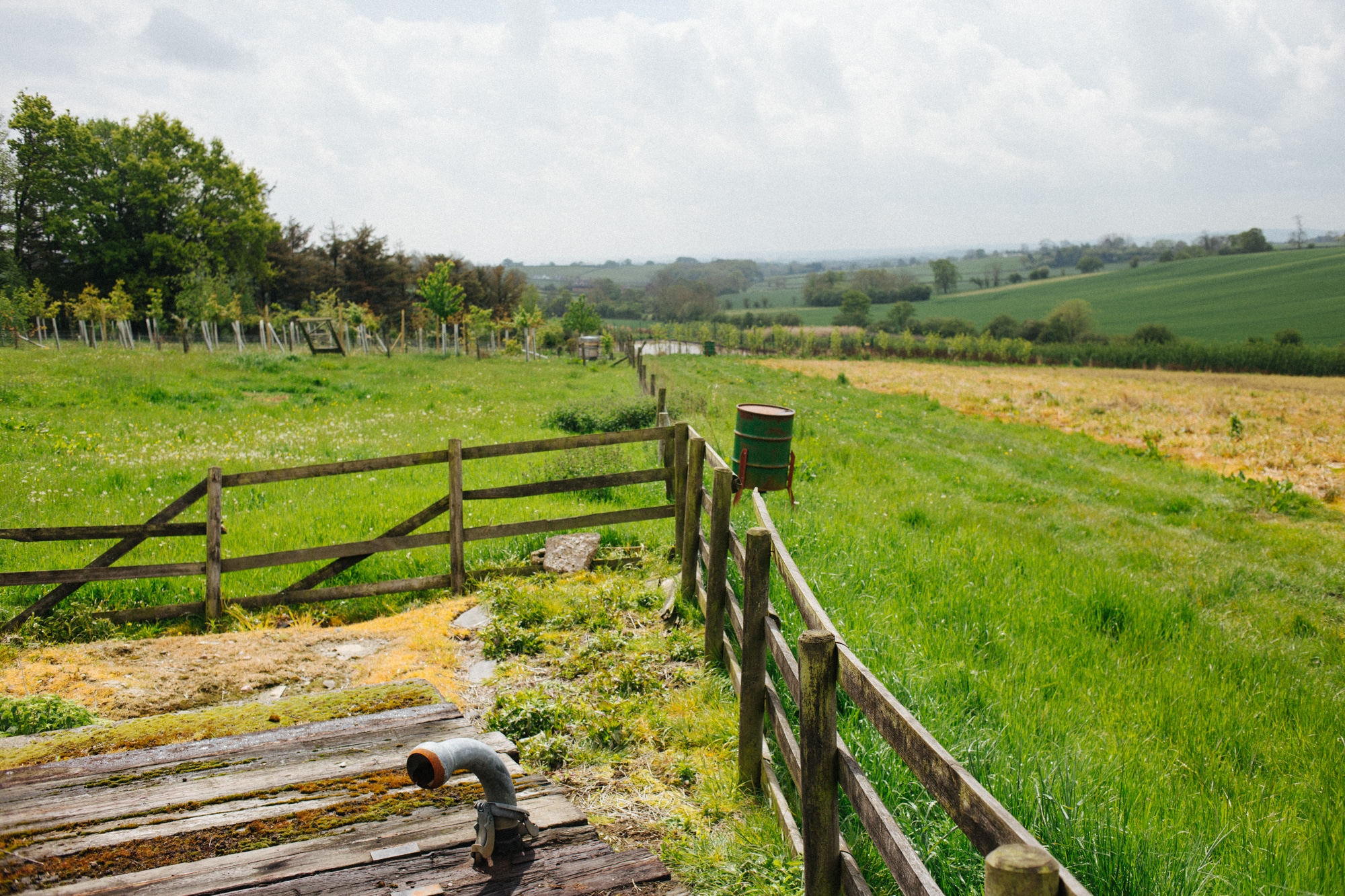 "The water will leave either down the road on a keg or a bottle on the back of a lorry for sale, or it gets reprocessed by our Wetlands Water System. All of our waste water comes into that murky pond over there – that's an anaerobic digestion pond. Water flows out of that through gravity into a series of swale ditches that follow the contours of the land and are separated by earth banks about 4 metres wide. Those banks, separated by willows, are about 100 metres long, and act as natural filters. So the water is cleansed naturally as it percolates through. There's evaporation from the surface and the plants assimilate nutrients and reduce the amount of chemicals in the water."
What exactly is in the waste water?
"We have to clean with chemicals in the brewery, to meet standards, plus there's waste yeast there's filter powder, but that all gets processed naturally as it flows through the 3 ditches into a bottom pond, which is the only place where we put energy into the system, with an aeration unit, which aerates the pond. The pond flows out the far end and there's a pale brown swathe at the end – that's a reed bed, on gravel, and it gets filtered through that again. And then there's a brook that runs along the tree line of the valley and the water's discharged straight back into that brook. So we've taken it out 400 metres that way, and 400 metres the other way we've put it back into the environment."
That's a pretty remarkable feat, and means the place isn't just environmentally but actually seems in tune with its environment. They even have beehives here which offer no help to the beer but are a sign of biodiversity and community respect, as the honey is given to a local shop to sell. All of this is hardly something you will see at the giant mainstream breweries where the industrial scale prevents such care, not will you see it at the edgy micro-breweries operating on converted shops under railway arches. Which doesn't make either despicable, necessarily, but it certainly does mean Freedom have a wonderful model which brings a new appreciation to their beers.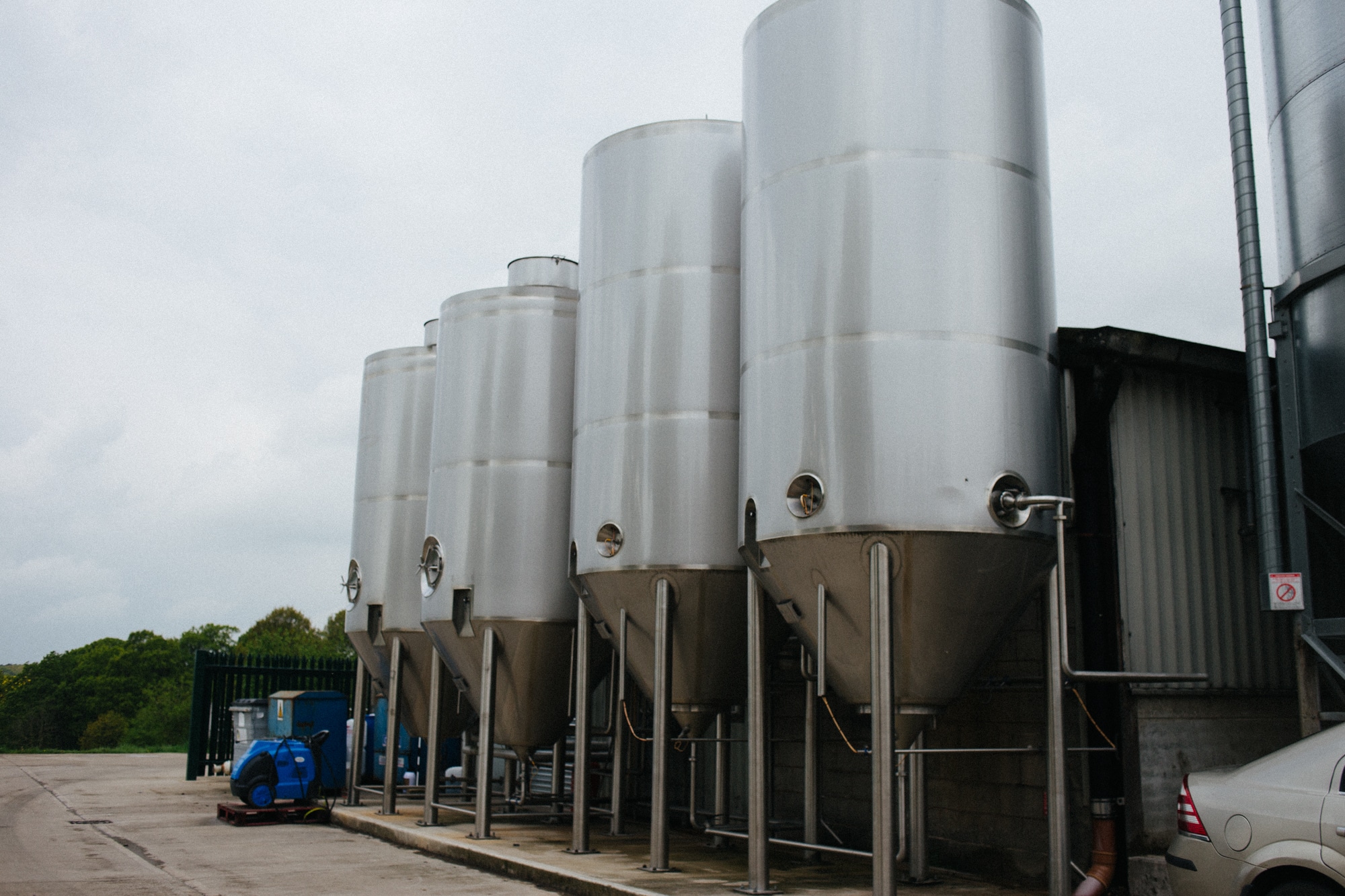 And what about the beers?
Sensing our thirst, Jonathan hastily takes us into the brewery itself to talk us through the brewing process, with the promise of some tasting at the end of it. "Beer is a fermented sugar solution, basically," he explains, with the sugar derived from malted barley. The malt is run into the plant, crushed to reveal the endosperm, which is what brewers cut into as a source of the sugar.
He talks about the "juxtaposition" of the brewery, "We're part of our environment and very respectful of it, but we also invest in modern processes to ensure consistency in what we do." In contrast with the wild west of the ale market where you can sip on such delights as lime and raspberry beer, when it comes to lager, it's all about consistency. "For a lot of British lager drinkers, unless it's pale and golden and light, they don't readily identify with it."
However, the way Freedom achieve this for its lagers is quite different from the big mainstream brands.
Pointing to some large silver Man Who Fell To Earth containers, Jonathan tells us, "Most of these are used for fermenting lager. We use lager yeast to make our lager, which may sound like a strange thing to say, but some smaller brewers will just use the same yeast strain for ales and lagers and you get a range of flavour compounds that are perhaps not typical of a classic lager. It's an obvious thing to do, but we always use a lager yeast for lager.
The other thing is that we're fermenting at a low temperature. Temperature has an impact in terms of flavour profile of the product. Suppressing the temperature helps create what I call a cleaner malt canvas.
With lager it's about subtlety. So when you're overlaying those hop aromas onto a clean male canvas they'll show through. Now if you're brewing an 8% triple IPA with massive American hop flavours, that's fine because they all complement each other, but when you're brewing lager you have to make sure you get that balance. And balance is the key for successful lagers rather than punch you in the face flavours."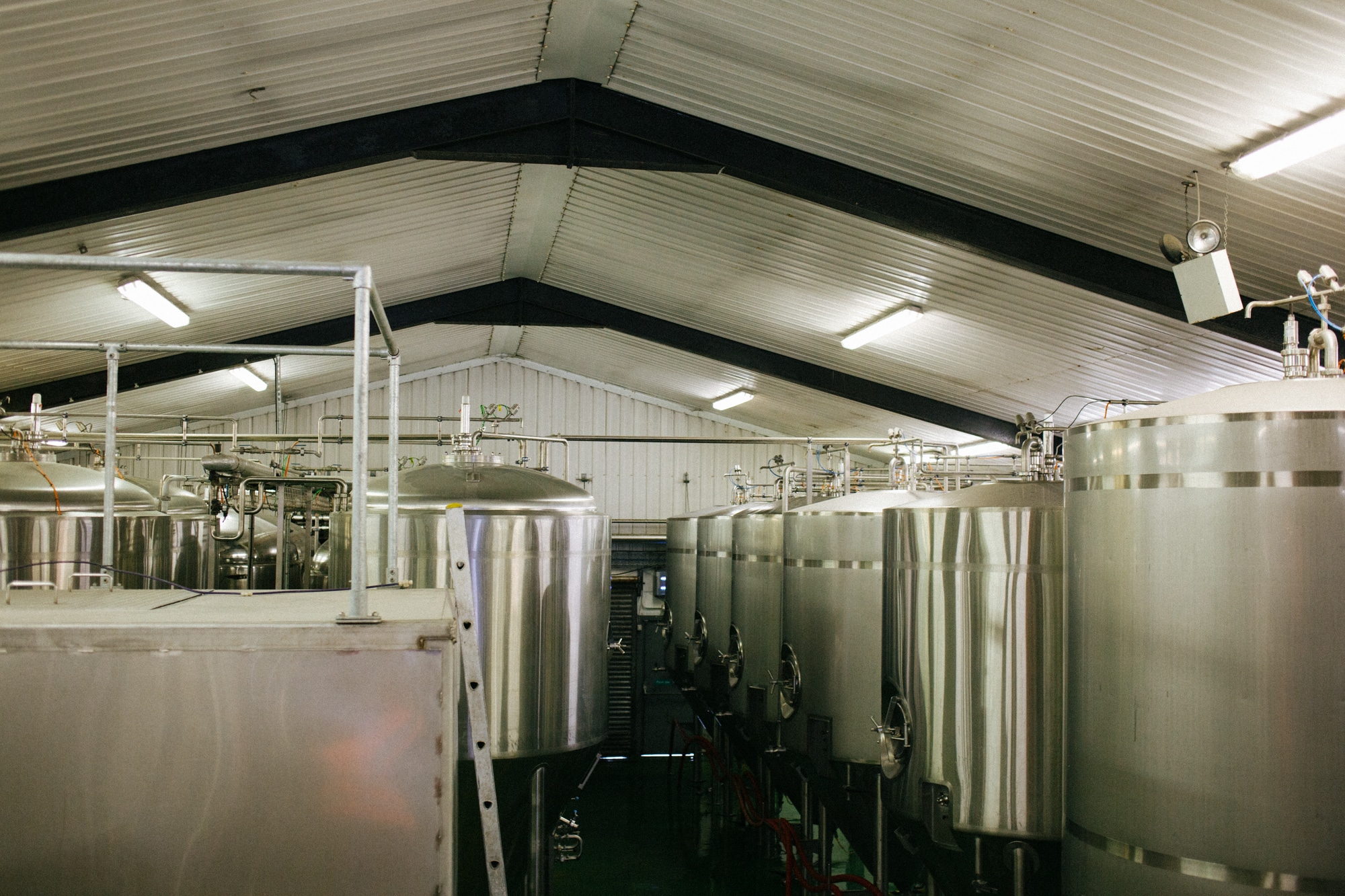 The lower temperature fermentation occurs in the sci-fi vessels which are enclosed – which is key: "We're fermenting them under pressure, so the CO2 that comes from the fermentation process naturally dissolves in the product. This means we are naturally carbonated, which tends to be gentler, and makes for a softer product, which is a bit easier on the stomach – quite a lot of consumers find lager gassy, but ours makes for easier drinking. A lot of ale drinkers transition to us because of that."
We're taken around the brewery to look at the different stages of the process, including the sugar solution called wort which comes from pumping water into the crushed malt sugars – this is the porridge-y material which is then fermented. The brewery will also add in hops from around the world, according to what product they're making. This is where the real art of the brewers comes in, the labour of love where experimentation and rigorous testing results in new beers or improved existing ones. "We recently reformulated our pale ale as a direct response to consumer feedback. The pale ale market in our eyes has changed. Bitterness levels have gone down, aroma has gone up, and we're all about light, drinkable session beer. It led to a close process of reformulation, and we're had a significant consumer upsurge since then."
We walk through more vessels as the housemartins attempt to swoop into the warehouse again, and learn of another thing about the unique process here: the maturation. Like, Freedom allow some. "We do a long, slow, cold maturation. Some of the big players won't bother, some will do it for 3 or 4 days, but we do it for a minimum of 28 days, and we regularly run at 35 to 40 days. My personal view is that 40 is the absolute optimum.
During that time you get slower fermentation, you maintain the carbonation naturally, and the more volatile compounds soften, and the beer's rounder characteristics come out. You get a massive difference. That's another one of our key differences."
Of course, this is way lager used to be made, when Bavarian monks discovered that when they left the beer in caves during the summer, the condition and flavour improved. Now though, such long maturation for a lager over here is rare.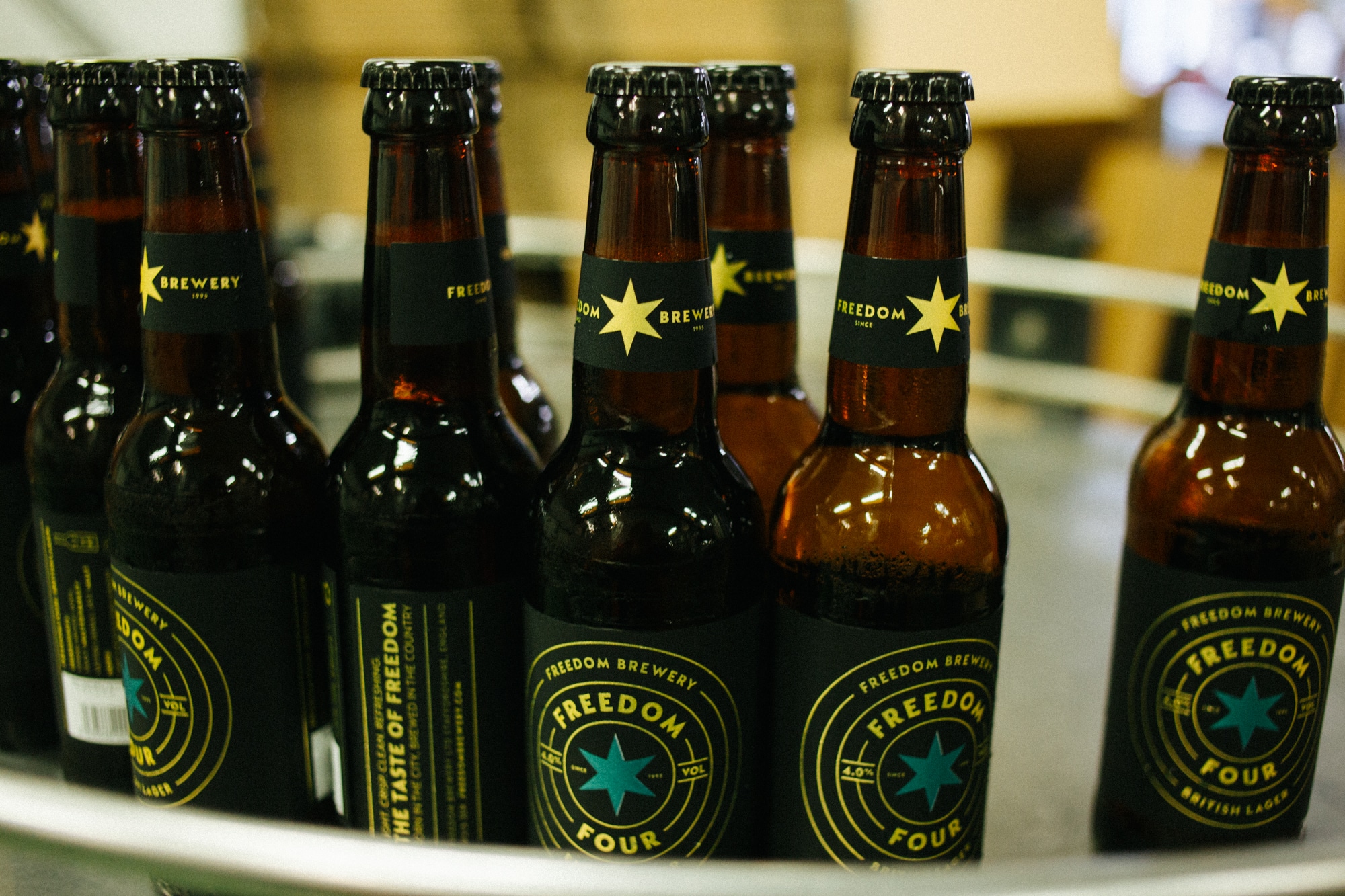 After being hypnotised for way too long by the production line where the beer is actually put into bottles, capped and labelled – sure we liked all the nature stuff but watching machines in action like this is another level – Jonathan took us into adjacent lab, where all the analysis and quality control takes place. At last, we could taste.
We're given samples of the beer at various stages of the process. Cloudier, more bitter samples from pre-filtration, pre-matured stages, right through to the light, clean refreshing final product straight from a new barrel. The difference was obvious but still striking to follow it all with your tongue, not just in theory.
At this stage Jonathan also explains why Freedom beer is vegan, one of its most important selling points these days. In case you didn't know, most beers make use of fish guts in their brewing process.
"They use isinglass. Isinglass is an acidified solution of the swim bladder of the fish. It's a very pure form of collagen, a very large protein. Basically the collagen has a net positive charge on it, and the outside of the yeast has a net negative charge. The two attract, form clumps and then gravity does the rest. It forces the yeast to sediment more quickly, so you get a brighter beer straight away. In a trad cask beer, isinglass is used in the cellar and you get sparkling crystal bright product.
Because we use a long time in our maturation process, we don't need to do that. We get that natural sedimentation. It's a natural process. Isinglass is just not necessary for our product. There's no replacement, we just take time. but that means by definition all our products are vegan without compromising the quality in any shape or form."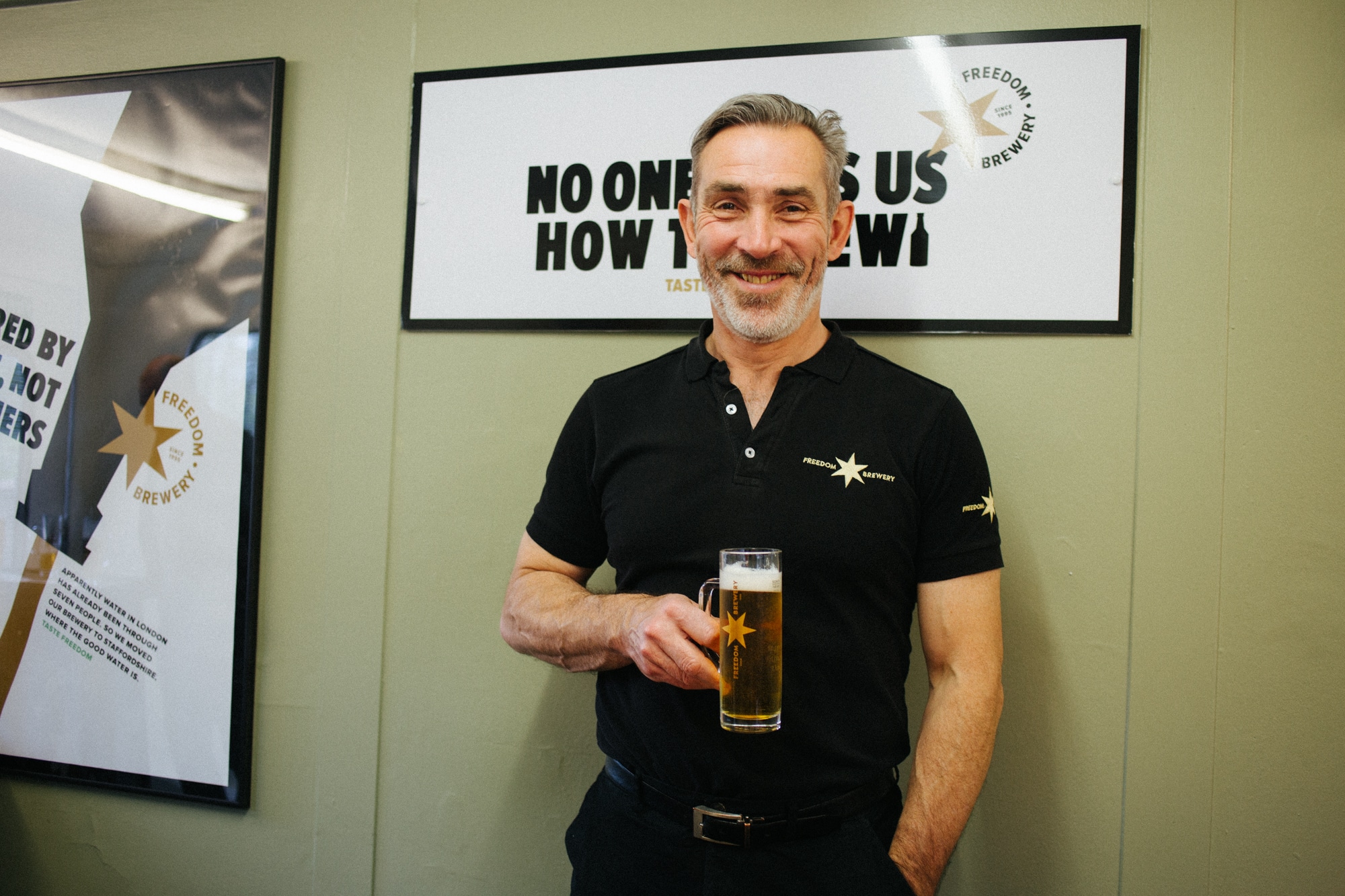 Duly impressed, and after a couple more of the fresh beers, garrulously impressed, we are then sad to find we're due back at the station for the London train. Compared to our surrounding, it feels like we're being dragged back into a Dickensian nightmare. Of course, this is hardly the case, but such is the effect of experiencing a business in tune with its idyllic environment that you want to hang onto the feeling of it. Of course, since Freedom's beers are spreading throughout the land, transportation back here, at least via your tastebuds, is an easy journey to make. And one you are always grateful for.
Follow Freedom Brewery on Instagram. 
Freedom have been our amazing partners at all our events this year including our Festival of New Masculinity and our recent Future of Men event in Sheffield. Stay tuned for new event announcements soon.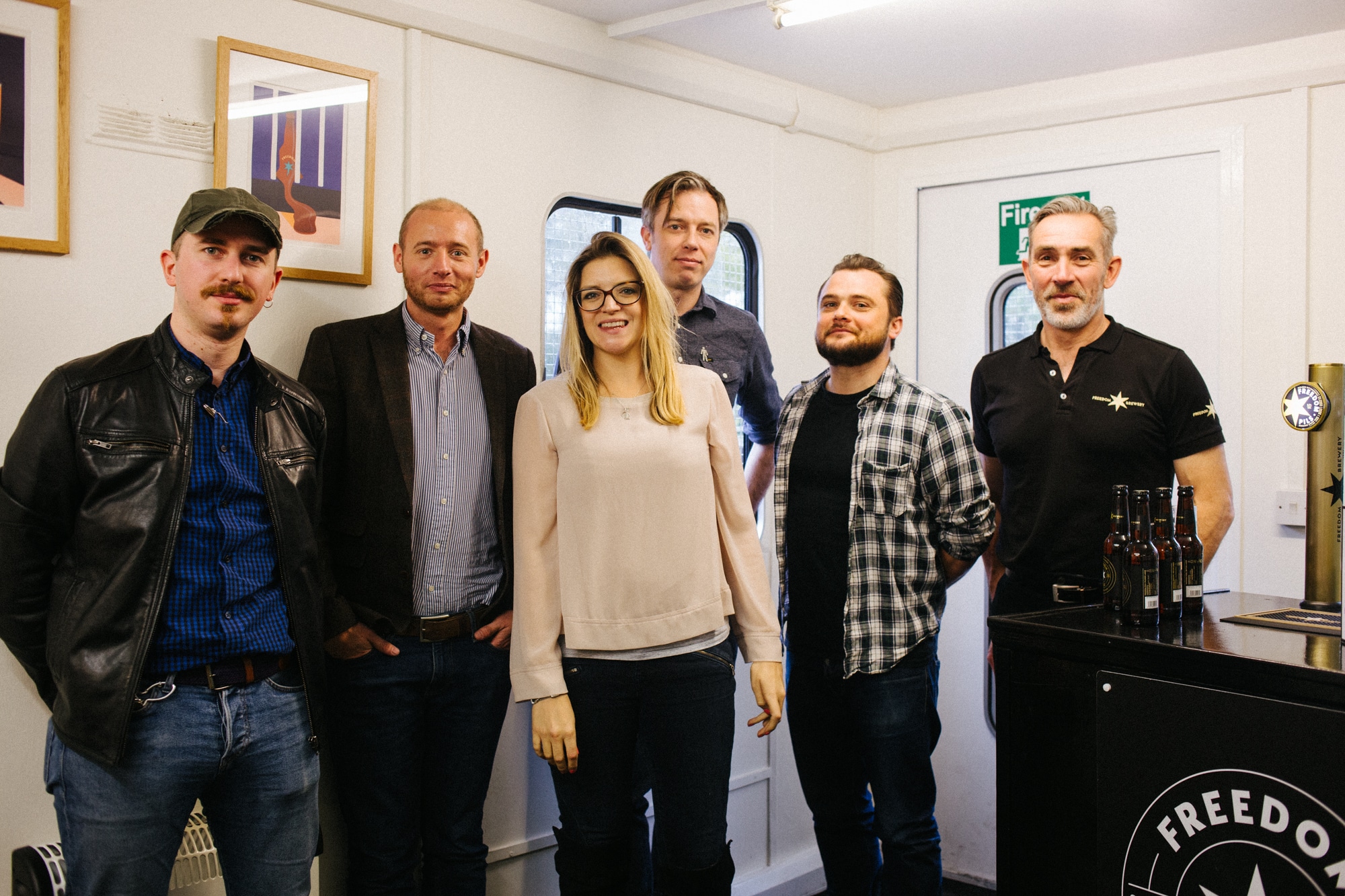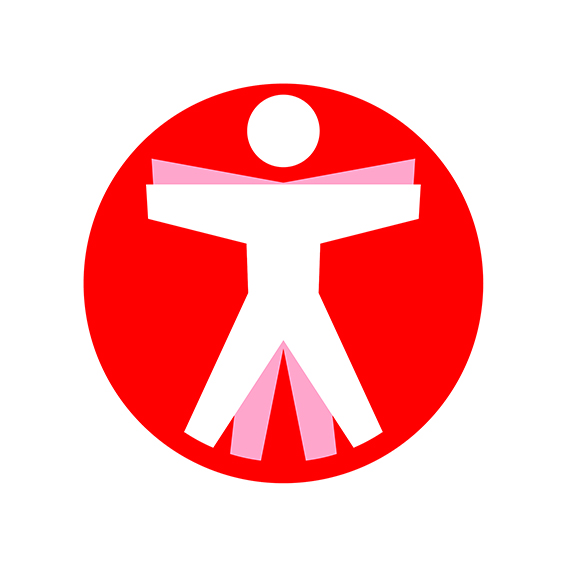 Join The Book of Man
Sign up to our daily newsletters to join the frontline of the revolution in masculinity - plus be the first to read columns by Professor Green and Jason Fox.