Alex Lanipekun on Riviera, TV industry diversity and Wu Tang.
An interview with Alex, the new cast member of Sky Atlantic's Riviera, and a man set for big, big things...actor, director, hero.
With Game of Thrones over, it may be the turn of Sky Atlantic's Riviera to take over the waking lives of people everywhere. Although with 20 million downloads of Season One, it's kind of already happened. Season Two has just arrived, for more Shakespearean drama played out with blood and money, and joining a cast led by Julia Stiles is the amazing Londoner Alex Lanipekun. The former Spooks and Homeland man is an exceptional acting talent and as you'll see, also a smart and ambitious creator who last year wrote and directed a short film, Run, which is set to be made into a full feature.  The RADA-trained Alex – once part of a hip-hop collective called 'ONE' – is going to be truly in the national consciousness thanks to Riviera, as his character Raafi hits the south of France with his wife Daphne (played by Poppy Delevingne) to stir things up even further. We grabbed an interview with Alex and, well, he's a hero…
How did you get involved in Riviera and what can you tell us about your role?
I became involved in the spring last year, went through the usual process, I went through casting and they sent me the first 3 episodes, some information about the character. They expressed a desire for me to meet the director and meet Poppy Delevingne who is playing Daphne in the show alongside my character Raafi. Poppy and I did a chemistry read and she was just really bright and on it and really cool and I got a nice vibe from Hans, the director of the first block who was really specific but also wanted to interrogate my ideas and that's always really encouraging. So when the offer came through, I was all in. It was really cool I thought this is going to be something special.
Raafi is a wealthy businessman and he obviously brings a touch of colour to the cast of Riviera. I just really liked that they were looking to focus on some independent wealth that was coming from other areas down in the south of France. Obviously there are very rich people from middle eastern backgrounds, African backgrounds, and the way they were keen to let that be shown in the world of Riviera was very attractive to me.
It's a hell of a cast, how did you find working with them? Does working with such top people add stress to up your game or does it make it all easier?
It's an amazing cast and I was very excited. I knew Julia Stiles' work obviously because like most people their childhood was peppered with some really cool fun movies from when she was a teenager and then the Bourne franchise for me was incredible. So I was eager to work with her. Although I don't have much to do with her in the series, my storyline is more to do with this new family that comes into the Riviera and kicks up dust so to speak, causes a lot of trouble. But I'd worked with Dimitri [Leonidas] and Lena [Olin] before. Dimitri and I were in the desert on camels together about 4 or 5 years ago now, and I worked with one of his sisters before. So I was really excited to work with him again. And with Lena we did an American thing together, for ABC, and she was brilliant.
So for me it wasn't really pressure it was excitement to be reunited with people. Then when I saw Juliet Stevenson was going to be playing the matriarch…I'd worked with her very briefly but I've seen a lot of her theatre work, and obviously she's an incredible woman and actor and activist and I'm generally inspired by her as a person.
It was a no brainer really, to be honest. I feel like I've been lucky to have worked in a few pretty cool ensembles. It just raises the game. Whether it's in theatre or on TV or film. It just raises the game of everybody – you lock in and you're all focused on making the best work you can. Standards are always high and that's exciting to be around because it creates a certain type of electricity.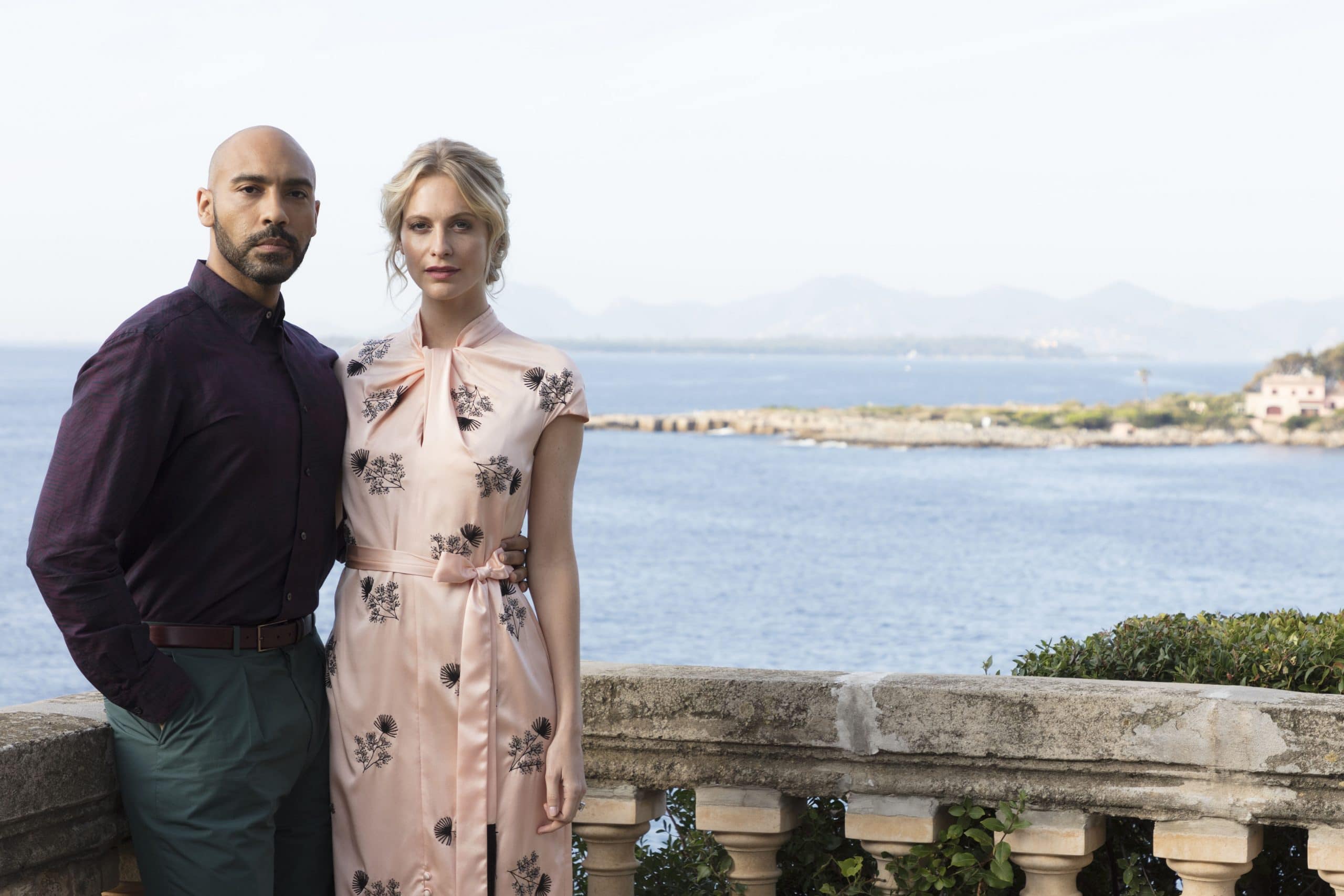 Can you tell us about the unique appeal of Riviera, for those who haven't seen it yet?
Riviera does have a unique appeal. It wasn't lost on me that Riviera is essentially the biggest show on Sky. All these American shows and it knocks them out of the park – it had 20 million box set downloads for season one, which is just unheard of. I didn't want to disappoint any fans of the show when I came in so I did my research. It's lavish and it's full of murder and mayhem. It's great fantasy. It's beautiful locations. But at the end of the day it's great storytelling. It's big storytelling. Cameron, one of the executives, said to me it's big world storytelling, and then grounded with these really honest, connected performances. That's the one of the keys to the show. You you can go on these huge journeys with these characters and live these larger than life existences but it's still feels compelling and real. Also, it's the south of France, it's fucking sexy.
How do you go about prepping for your roles? Are you one to do lots of research or is it just all about the script?
Nowadays it's all weird, you get sent…a page. And you're like, 'what's this, is this a script?' It's your character breakdown. And then you get sent the scenes that you're doing. You're like, 'How are you supposed to prepare a character, even for a meeting, with that kind of information?' I guess because of the internet and people leaking stuff they become much more mindful.
At drama school they teach you it's all about the script, everything you need to know about your character can be gleaned from the script. With film you used to be able to have a script, but things changed so much that the script you started with isn't the script you finished with. And the way they edit the project afterwards, character things can seem completely inconsistent with other character things, because they've cut the linking scenes. For actors that can be really frustrating, but that is the game really.
In TV you're getting the scripts piece by piece, the story piece by piece, and so your character is evolving. Sometimes you have mapped your character one way and then you discover there's actually completely new motivations , and you're like, 'shit I didn't know that was down there.' But the script writers unearthed it for you and you have to make sense of it and understand it and justify it for an audience. And so the main thing you can do is steep your character in a history and an ideology because hopefully those create pillars to help you build your temple upon.
How does Riviera differ to what you've done before? Say, Homeland? In terms of production & personal experience?
Each job is different. I seem to travel a lot for work. I'm not sure why but that seems to be the way the industry's evolved as well. I don't know what Brexit will do with that, but so much of British work is all over Europe, they farm us out to everywhere so you're dislocated from people you know and love but you build new family while you're there in that bubble.
Homeland was a well established machine and it was the first time I'd done an American accent on film, so for me I was quite nervous about that because I wanted to make sure I nailed it. So I just stayed in the accent the entire time. I find that works for me. With Riviera, Raafi is very RP [Received Pronunciation]. I have more of a London accent naturally, so I had to make sure I felt confident in RP and so I stayed in RP all the time. For me it's all about how the character is and where that fits into the universe.
Production wise Homeland was the first time I'd worked with a female 1st AD, and maybe the second time I'd worked with a female director. I've worked with 3 black directors and 2 of them were on Homeland. It was an incredibly inspiring experience because in England you're trying really hard to break the tropes. Acting is about archetypes and there are historical tropes and every actor has to deal with that. The industry tells you who you are, and then you have to try your best to either go with it, hell or high water, or work against them as best you can and try and carve out something next to that. So for me it was incredibly inspiring because I was surrounded by all these people who I never see on British sets. Who I never used to see on British sets, which were overwhelmingly white and male. So seeing women, seeing people from different ethnic backgrounds, in prominent roles was hugely inspiring and reassuring and I think Britain is working hard to move in that direction. I talk to producers and casting people all the time about their desires to reflect the changing landscape of society. Hopefully that will continue and the next generations push as hard as we did for change.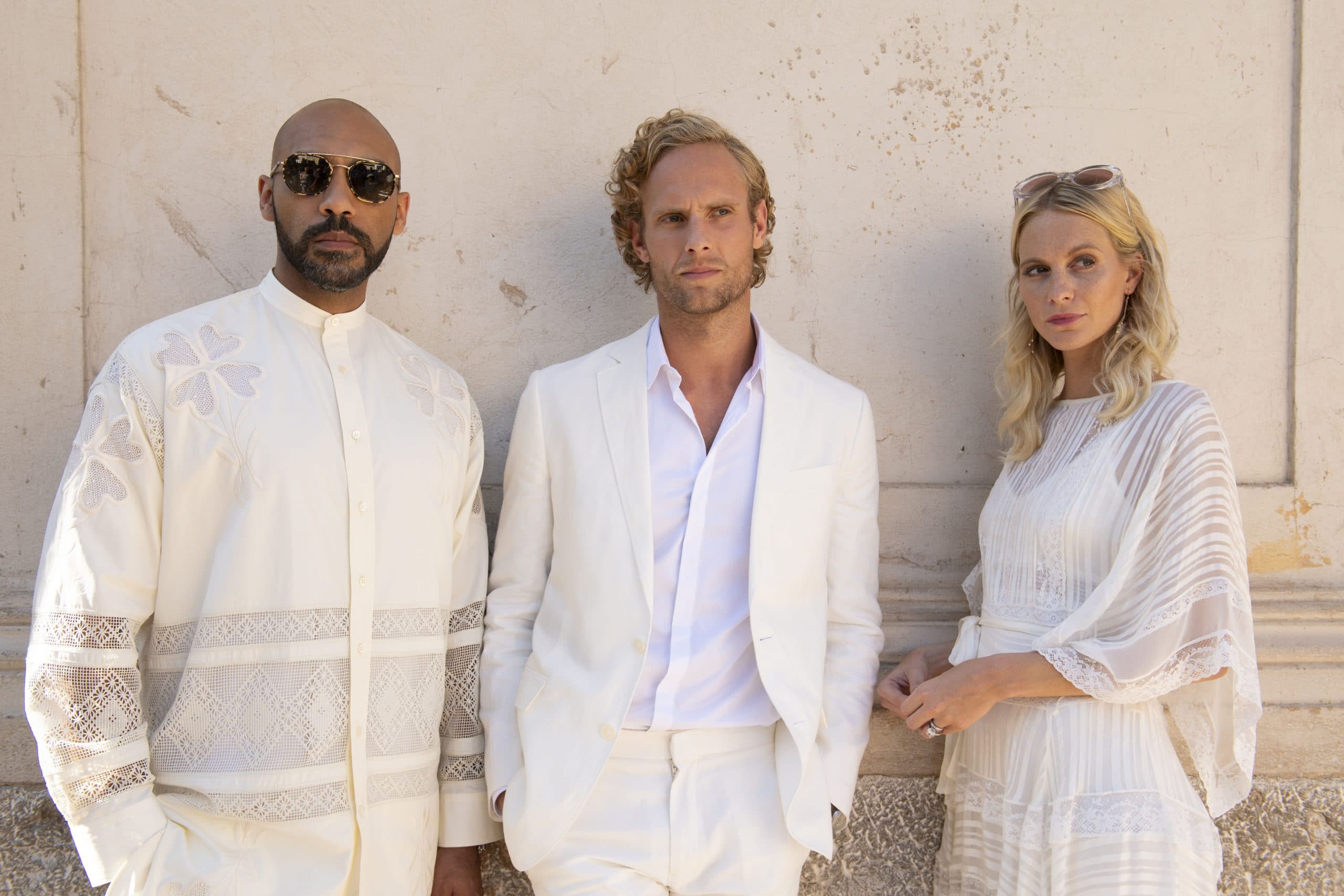 Are you still learning about acting?
Definitely. It's a lifetime's work, that's why it's such an amazing profession. But you have to live your life, you have to go out and experience the world – a lot of people get lost in the bubble. You have to keep invigorating yourself, inspiring yourself, because that gives you things you can bring to your work. So yeah I'm constantly learning about acting. I learn when I watch beautiful performances. I learn when I see terrible performances, and when I do terrible performances! That's as much of a learning experience as the other way around. I get inspired on set when I'm working with people and I see the way they choose to approach a scene, in a way I hadn't even imagined and in a way that really works. Fucking awesome.
What other TV shows are you into at the moment?
I'm not really watching anything at the moment, I'm more of a movie guy. I like old films. I work my way through pre-code cinema then noir cinema then westerns then directors of the 30s. That's more what I do. I'm looking at Billy Wilder movies right now.
Can you tell us about Run? The film itself and your work on pulling it altogether. Is this the direction you see yourself going in the future? How did you find being the one in control of it all – gratifying or burdensome?!
Yeah I wrote and directed my first short film last year, Run, and produced it with my producing partners. It was an amazing experience. It's essentially part of a larger film, so we did the short to help the financing of the film we're going to make. I was always a writer before I was an actor so that's always been my objective, to make my own stuff. And I think as technology has improved and kids can go out there and go and make movies on their iPhones. I mean Soderbergh is making movies on an iPhone, Tangerine was made on an iPhone, Unsane was made on an iPhone. The technology is there so its up to us to be part of that creative change by speaking out and making stuff and creatively contributing rather than expecting other people to do everything for us. It's something I'm really passionate about. The hair fell out of my fucking face while I was making Run, it was so stressful but we took it to a few festivals got some good responses and people were really excited about the feature. But it's pretty terrifying the first time it's on on a big screen and there's a big room full of people watching it and you're sitting there waiting for the first laugh or the first plot turn. I've never felt dread quite like it in a creative sense, but it was addictive and I'm definitely gonna be back for more.
What do you consider your best work to date?
I don't have a best role to date. I haven't done my best work yet, that's my philosophy. My best work is to come.
Do you think roles are becoming more interesting for male actors? Reflecting some changing ideas about men today?
I'll be honest, I'm still waiting to see it. I think there has certainly been an evolution.  I'm a black man, a man of mixed race, mixed heritage. Those things aren't mutually exclusive. When I grew up in England we were called half caste when I was a kid, but that evolves and it continues to evolve. I did an anthropology degree, and we were taught there's no such thing as 'race'. We're all one race but yet race manifests itself in society obviously because people get prejudiced for the colour of their skin or for their ethnic background or their religious practices.
For me there's been a huge change from 'sleep and eat, step and fetch it' – type roles through to the buck type roles and the best friend roles. There's a constant evolution. I'm working very hard to break ground and create spaces for people who look like me. So I guess my true answer is that I'm still waiting for that to be seen, but I'm very optimistic about it I think there's some amazing young voices who are writing exciting material. Energised material that reflects their world view and lived experiences and more to the point, producers are interested in helping to make that stuff be seen. Because theres's always been an audience for it. I'm hugely optimistic about the future but I've yet to see it in my own personal experience of the business.
Who were your role models growing up?
I'm a hip hop kid. My role models were like Wu Tang. That's basically it! And I've always been a massive cinema geek. I've always been a fan of Las Von Trier and Michale Haneke and Antonioni and Fellini and Pasolini. I'm part Italian so I watched a lot of Italian cinema when I was younger. I guess my role models were always people who made stuff, rather than actors, I was always inspired by writers and directors.
Do you still make music? What kind of stuff are you listening to at the moment?
Hell no. I was rubbish at it so I quit that game. I had friends who I did music with who went on to be very successful and their talent was always apparent. But I went to drama school! I'm completely into music, there's always music on in my house. I do a radio show with Kenneth Cranham, and we've been doing it for 7 series, over 8 years, a long time, and through that I've been introduced to Ella Fitzgerald. Also after spending six months in France I really got into French hip hop. I have no idea what they're saying – I'm pretending I'm learning French and it's helping me, but it ain't. But it sounds great.
What does it mean to be a man in 2019?
My first initial resposne to this, is what it means to be a man is what it's always meant to be a man. A good man, an honourable man, like a real man. But maybe that just sounds good in my head. I think the truth is that clearly we're evolving.
I listened to an interesting interview the other day with a man who was talking about rape culture. And how men were raised on rape culture historically. Whether it be the misogyny in hip hop or the way in which sex roles play out in cinema, and I think he probably had a lot of truth to that statement. We're evolving past that hopefully, at least in the West, it's a much more active conversation. Without getting into evolutionary biology and sociology and psychology, I think just trying to be a good human being is all that really matters. Trying to live your life with a humanitarian principle – that's why it meant what it's always meant.
I'm in a very competitive industry and I realised recently that acting is like a contact sport. I didn't think it was competitive when I was younger. It wasn't what I got in it for, but actually it is often what you come up against. In life and society ambition is an incredible thing, a beautiful thing, it should be encouraged and so should competitiveness. But I think we have to also be mindful of what we tread underfoot in our attempt to rise. I think there's a better approach to how we interact with each other. That is essential, especially when you consider that despite all these conversations men are still the majority of people in prison, men are still overwhelmingly the homeless ones, men are still overwhelmingly more likely to die by suicide, the list goes on. So we do need to pull that apart. We need to interrogate that. We need to explore and try and work it out. Is it because of what they call toxic masculinity? I'm not sure if it is but there is something that we need to help men with, in order to overcome some of these things because the suicide rates are insane in society. The extreme violence for men in prison overwhelmingly exceeds the extreme violence for women in prison. Is that something inherent in men or is that about society? I think understanding this is part of what it means to be a man in 2019. Going on that road towards understanding, and dismantling some of those historical things, is what it means to be a man in 2019.
How do you look after yourself, physically and mentally?
Well I try to meditate. For me, meditation is a game changer. It's one of those words where you don't really know what it means and it can put a lot of people off. 'I don't even know what the fuck that means, 'meditate'. What does it mean? Om-ing and Buddha type shit? What is it?' And so I was sceptical at first but I came at it from a science side, realised what it was, and then started getting into the more spiritual aspects of it. But essentially I focus on my breath. Breathing deeply for 5 to 10 minutes in the morning, first thing. And that is a game changer of untold proportions. You notice the difference, it's tangible over a couple of weeks. It's insane to me, the changes it brings in dealing with anxiety, dealing with stress, of just being in the rat race in London. If anybody hasn't done it I recommend they explore meditation, in the morning or your lunch break, whatever it is. It really has helped me immeasurably.
Physically I try and stretch in the morning. Go to the gym when I have time but I'l always make time to stretch. I wish someone had told me 20 years ago, that these are the two things to get into. Good stretches in the morning and meditating. Obviously we breathe to live, so imagine how different a life you can live if you learn to breathe differently?
Do you have a mentor?
No I wish I did. I don't know why, I wonder if I have too big of a fucking ego. I don't know. I really try to listen to my elders and take their wisdom whenever I can. I've been lucky to work with Kenneth Cranham, Jonathan Pryce and I've definitely learned a lot from those older guys. Both those guys went to the same drama school as me, so I feel there's a kind of lineage and you can ask those guys about the things they've learned in their profession. But an actually mentor no. You've just got to do your own thing. If you can't join em, beat em.
I think also there weren't all that many older black actors who could really give wisdom and guide. David Harewood has always been incredibly gracious in giving advice. David Oyelowo from Spooks back in the day. But it's a rarer thing unfortunately. You do feel yourself slightly out there on your own.
What do you do that really annoys the people close to you?
I'm an argumentative fucker, so If I see a hole in your argument I'm exposing it all day. And I do like to push buttons, that does annoy the people close to me. But I'm getting better it, I promise.
What's the secret of good acting?
Acting is very simple. It's intentions, and the choices you make in how you express those intentions. If the intention is tangible, strongly held and delivered and the choices that you make about how you express that intention make you interesting to watch, that's where acting is. If I have a line, I can express my intentions several different ways. If the choices are boring then you're not interesting but if the intention is still strong then you will have a compelling element. But when that intention is matched by imaginative choices…and I think that's why Brits do so well because we play against the line. We get taught to open up the intention and make choices that mask the intention, play against the intention, but still reveal the intention. That for me is the secret of good acting and whenever I see that especially on stage its really when I'm in my element.
Riviera is on SKY Atlantic and NOW TV from Thursday 23rd May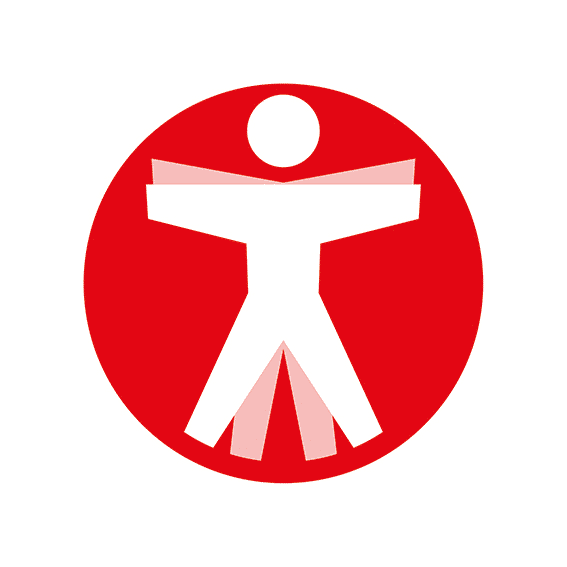 Join The Book of Man
Sign up to our daily newsletters to join the frontline of the revolution in masculinity.