"Music can destroy you"
An interview with Alma Jodorowsky and Marc Collin about the making of The Shock of The Future, a film celebrating women in electronic music and the obsessive creative spirit.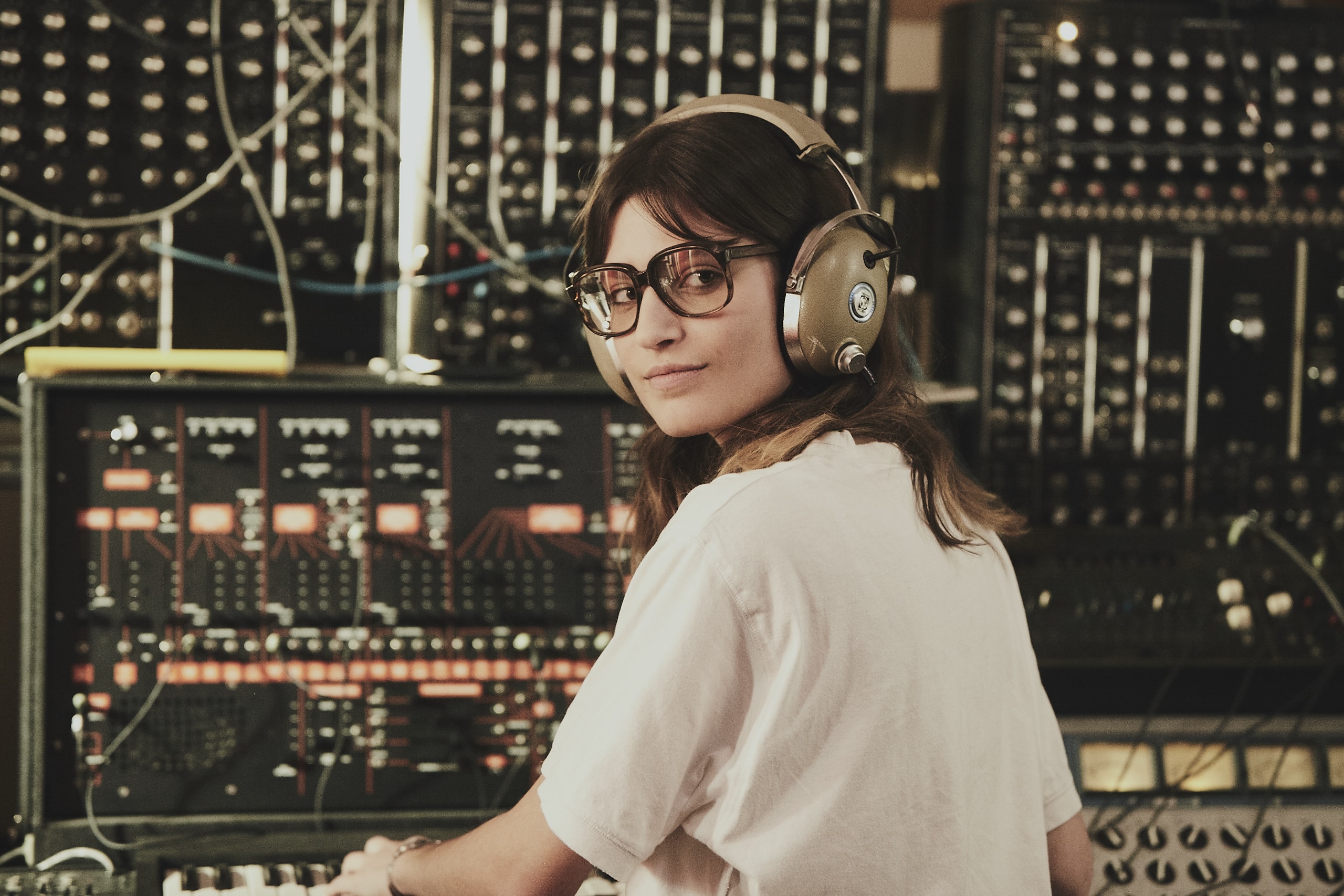 The Shock of the Future is a film with very different intentions to your average film today. It does not restlessly attack you with stimuli, it does not throw explosions in 3D into your retina, it does not offer grand spectacle and flexing biceps. Instead, it is slow, seductive, introverted, with a certain creeping tension which keeps you hooked from start to finish. It tells the story of Ana, played by Alma Jodorowsky, a musician working in a flat on a huge analogue synth display in 1970's Paris. Mostly set in one room, Ana works on a revolutionary new sound while being pestered or inspired by a cast of visitors, including an agent who pressing her to write some ad music, a friend with the latest electro tunes from Sheffield, a sleazy tech repairman, and a female singer who becomes her muse. It's about the fragile nature of the act of creation, about the obsessive glory of those who pursue that act at the expense of everything else, and highlights the untold story of female pioneers of electronic music.
The brainchild of Marc Collin, from the band Nouvelle Vague, it is a film that gets under your skin in a perfectly rendered setting which makes you yearn for pre-digital days of chunky glasses, tight trousers and a million cigarettes.
We sat down with Alma and Marc to talk about the creation of the film, and creation as a whole.
How did you get started on the film?
Marc: It's been some years that I wanted to do a movie. One day I had this realisation that I had to do a movie about music, because this is what I know the most. I started to imagine a story in the 70s about electronic music and imagining a fake biopic somehow. And then finally I found the key: to do something about a woman who is struggling for her heart and for this new electronic music. This kind of character could have existed but she didn't – I loved to imagine a woman like Ana could have existed doing this music in Paris and completely make her own revolution, and see the future of music.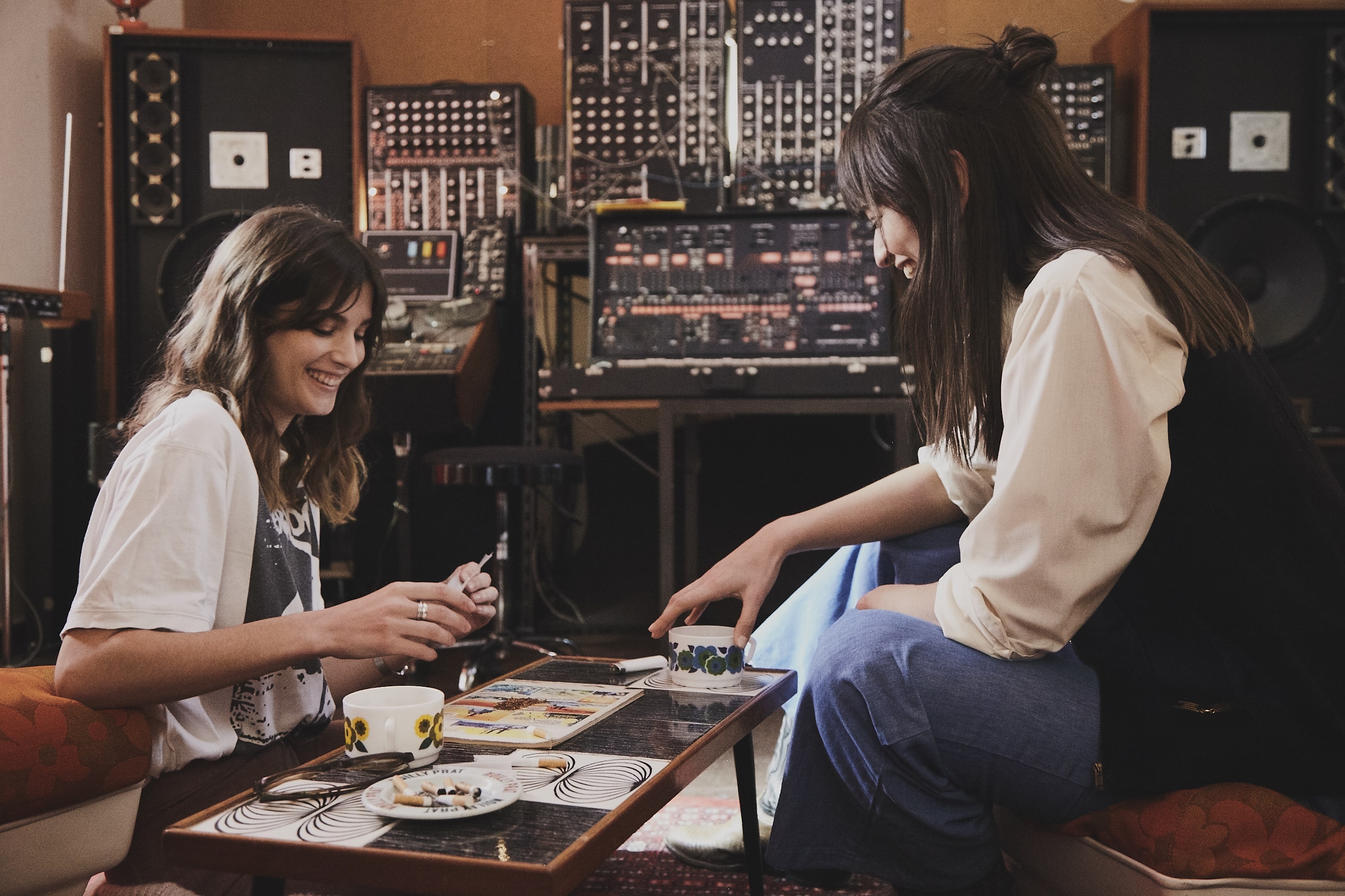 And then after I was searching for who to play her and it was really an obvious choice to ask Alma, because she was an actress and a singer, so she did music as well. So I asked her, sent her the script – I didn't know her – and she said, "why not?"
Easy! So what did you think when you first saw the idea Alma? Was it immediately apparent it was something you were into and could do?
Alma: Yeah I really liked the fact it was joining music and the cinema, and I was really intrigued by this kind of music that I didn't know well at the time. Also that it was about a woman in this industry, and some of the things I could connect with, about things that haven't really changed that much. I thought it was great and very specific. I think it's interesting also that it's almost a documentary, you can really feel the process, her inspirations and the music that she wants to do, and at the end she is doing it. She has this whole journey in one day.
Why did you choose the 70s for the fictional setting?
M: Someone, I don't know who, said that most of the bands in the 70s, 80s, 90s are influenced by The Beatles or The Rolling Stones, and most of the music from 2000 onwards is influenced by Kratfwerk. And I think it's really true – when you listen to music now it's really based on an electronic thing, with a pop melody, a robotic rhythm, to make people dance. All this began in the 70s, with Kraftwerk, Giorgio Moroder and in France we had Jean-Michel Jarre, and it was really the start. But what was interesting was that it was so expensive that very few people could do music like that. In the 80s it was the era of the cheap synthesisers when the revolution could happen because all those people who wanted to write that music, could.
Did you research into all those untold stories of women in electronica?
M: Absolutely. I read everything I could on all these women. I felt it was in the air, that something should be done on these women, who were mostly unknown. I was interested in the life and work of people like Suzanne Ciani and there was like one artist like that in different countries, and everything I could read  was same thing, how it was very difficult, and they had to fight a lot.  Eliane Radigue, this French woman, said that she discovered electronic music when she went to New York in the the early 70s, but when she came back to France it took her 10 years to have her first synthesiser. So for ten years she imagined what she would do with this synthesiser.
Did you tailor Ana to these real figures?
A: Well I read a lot and I was involved in the movie pretty early a year before we get to shoot it, so we also got to send each other things we would find, articles and documentaries on YouTube – it was really inspiring.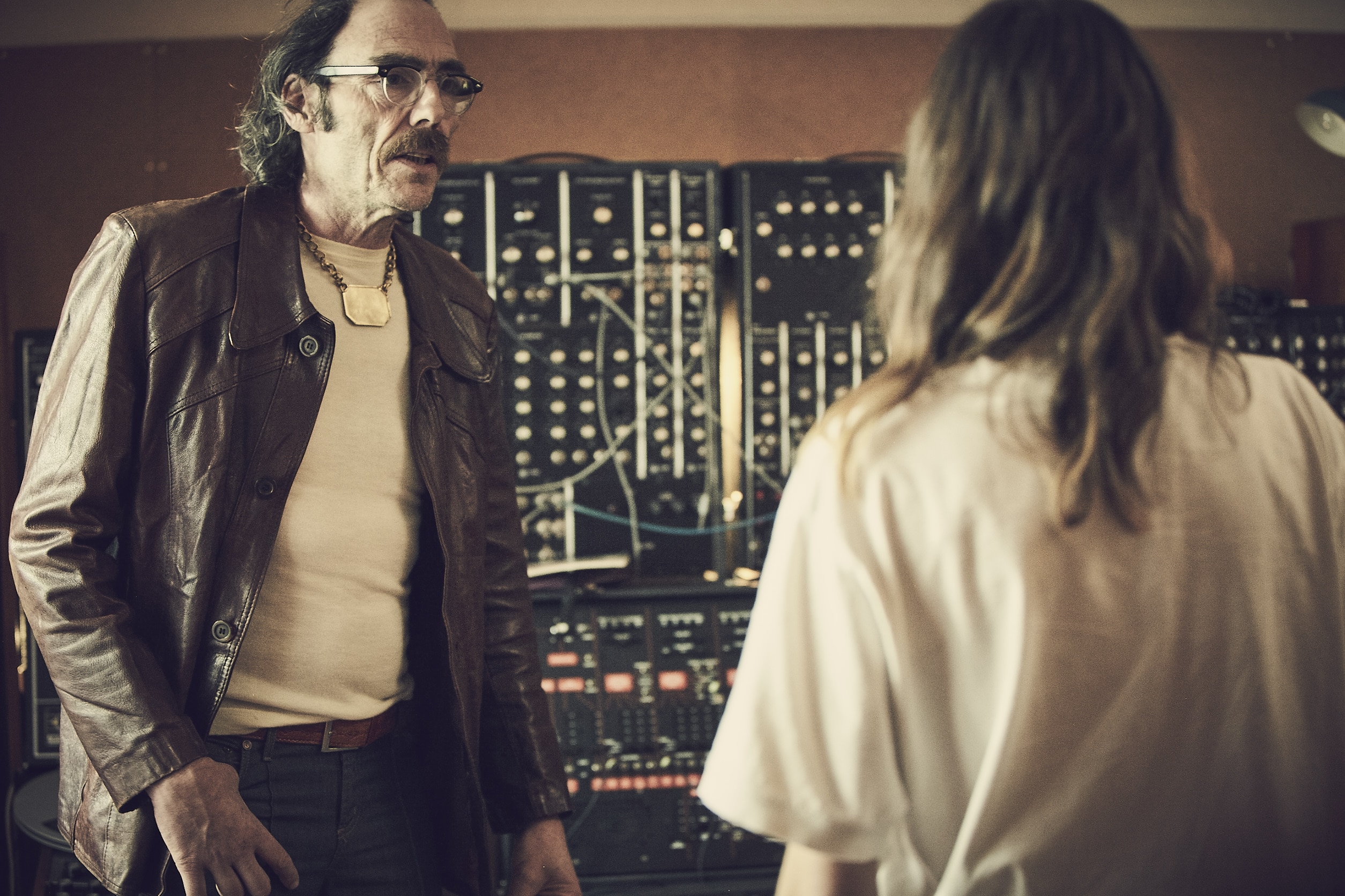 With that long run up did you do a lot of storyboarding and rehearsing?
M: We didn't storyboard, we didn't rehearse.
A: We did rehearse a little bit!
M: I'm really into this thing that the cast is the character, and I thought that Alma is really the character. I used to ask her questions, do you know how to play keyboard, and she said yes, she always said yes.
A: I had to practice a bit. For the big machines it was a bit more difficult.
M: I thought it was important she knew how to do music, that she was in a band. And I thought it was interesting to have this character when the stereotype is of a guy at the machine and a girl singing. I thought ti was interesting to have a girl at the machine and a girl singing. You see in the film that she could sing but she says no this is the music I have in my head and this is all I want to do.
A: It's not usual to have two women working together like that. In the movie Clara is her muse and it's something I liked as well.
M: It's great to see a women at these knobs and treating the sound like a sculpture.
The film is weirdly gripping, like it's on a knife edge, with I guess the idea that when you're creating something it might disappear – you have to grab it right away.
A: At the beginning it is a bit subtle but there is a moment when we hear a song just when she's waking up – and it's exactly as you're saying, she wakes up and she wants to remember what she dreamt about and capture that sound she dreamt about. It's really the red line of the movie, to capture this moment. And that's why it's interesting to do the movie in just one day because its something you have to grab now and quick. It could be big, even if it's just happening on one day.
It's interesting to get the details of how a song is put together…
M: Yeah it's magical for a lot of people, but most  people don't know how to write a song. Most people think  it's a magical, abstract thing. But part of the film is showing how it happens and its quite simple. You just try some stuff and see what happens!
A: I've had some people say it's not the truth, it's not possible to make a song in one day like that. I'm sorry but yes it is.
M: That was the revolution as well – for the first time you didn't need a lot of musicians in a studio to do music. You can really do a song in one day when you record on the machines. You can do it.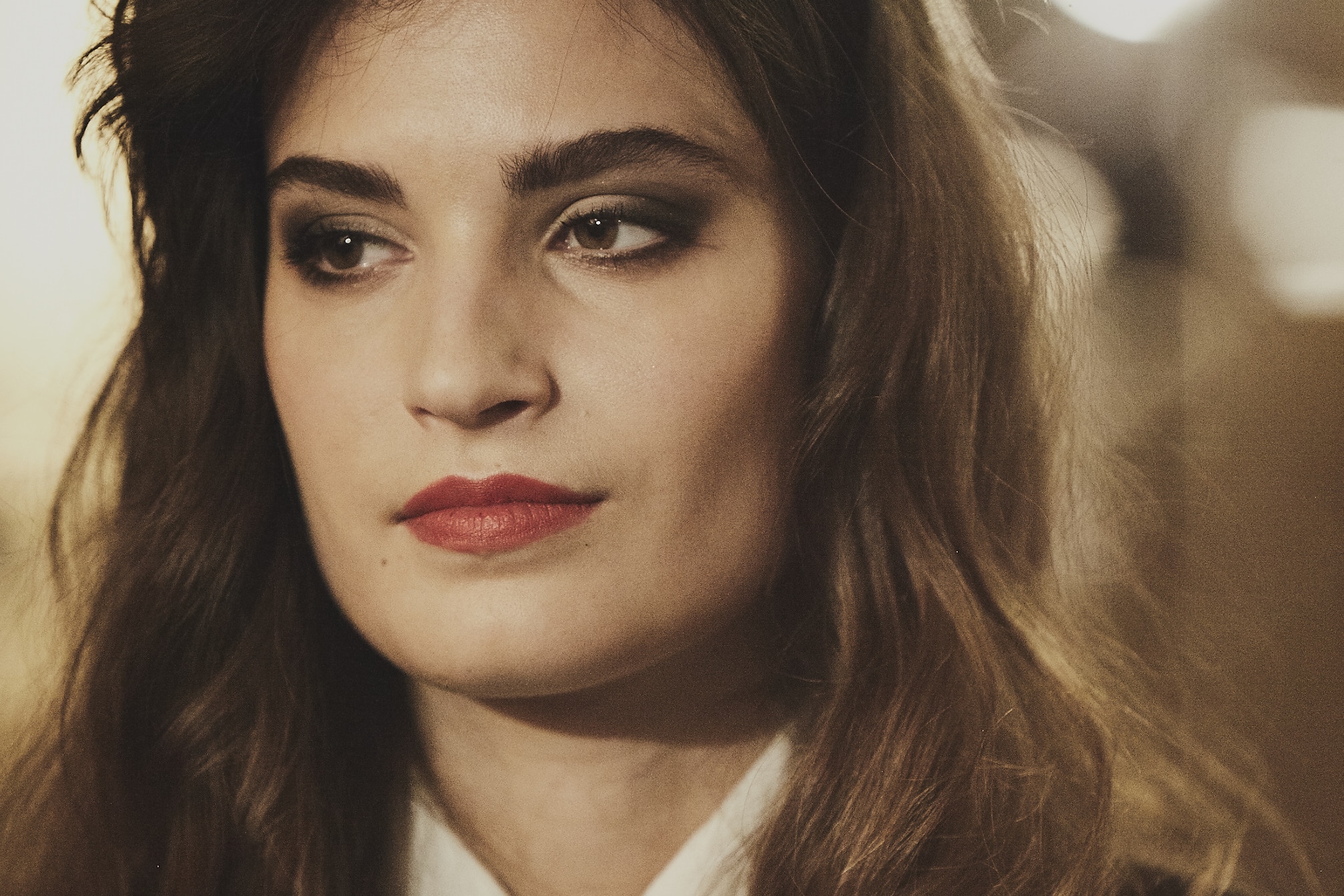 There's this solitary idea of a musician crafting the whole thing, with all these characters coming in to see her, and sometimes putting her off from what she wanted to do, maybe even getting a bit sleazy…
M: I didn't want to push it solely in the direction, necessarily. I just wanted to say every women that has done music has dealt with at for sure. But mostly I wanted to show that she has chosen that her life would be devoted to music and not be distracted with these people.
Do you want the film to inspire people in that sense, to commit to their work? 
M: Absolutely, I've done music for a long time, and I know it can really destroy you. You can put all your heart into it and then show it to one guy and he can say 'Oh I don't think it works'. I wanted to show that you have to go on. It's not for another person to decide for you what you have to do. It's a hopeful thing to go on.
A: It's really a journey of an artist who's passionate with their art and wants to do it above everything. The goal is not to have a hit, the goal is to pursue and to be really connected to what you want to do.
Part of the romance of the film is that in this 70s world the concentration can be on that project, there's no smart phone buzzing…were you conscious of representing that pre-digital era?
M: It's interesting about this 70s thing. You have bands like Kraftwerk or Suicide, and if you look at them in pictures they are dressed in a modern way, really pre-imagining the idea. But if you look at the surroundings in the picture there's people with long hair, with old cars, really in an old world. In the 70s it's the end of the old world and then in the 80's it completely changed, the mood, the music, everything. The 70s was a strange in between world.
The film did make me want to smoke again – it should come with a health warning. 
A: If you had worked on the movie you would not be saying that.
Were they real cigarettes?
A: Yeah. In a very small space.
M: Yeah but in the 70s there was all this freedom. Driving very fast cars, chain smoking, its was bad for sure but it was real freedom. And it was really the truth if you saw a music studio at that time, everyone would smoke all the time.
A: It's the second time I've made a movie set in the 70s and every time at the end of the movie I was like urgggh.
The Shock of the Future is out now.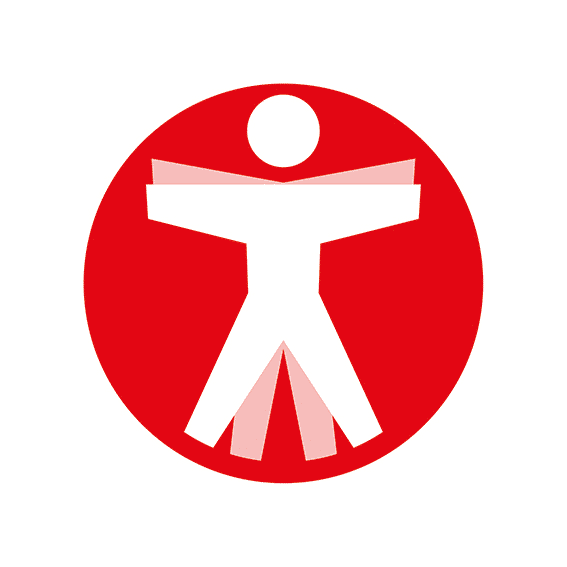 Join The Book of Man
Sign up to our daily newsletters to join the frontline of the revolution in masculinity.