Natalie Dew on Sandylands and Pontin's traumas
Natalie Dew is one of the most exciting acting talents around. We talk to her about the show 'Sandylands' and seaside town 'experiences'.
Sandylands was one of our great lockdown discoveries, a three-part comedy series on Gold which was at once an old school knockabout character comedy and a surreal spin on seaside town intrigue. Hi-De-Hi meets League of Gentlemen you might say. It featured the like of Hugh Bonneville, David Walliams and Simon Bird in eccentric supporting roles, but was led by Sanjeev Bhasker as the dad who gets 'lost at sea' and Natalie Dew as the daughter who returns to the town of 'Sandylands' for his memorial and to look into his somewhat mysterious 'disappearance. Natalie is an Olivier-nominated theatre star who more than holds her own in the series and indeed is clearly someone destined for very big things indeed. We were lucky enough to grab a chat with Natalie to find out more about making the show in glorious Weston-super-Mare, dealing with the pressures of life as an actor and the traumas she's experienced at Pontin's…
When did the second season of Sandylands come up?
There were chats at the beginning of the year but there was a lot of um-ing an ah-ing about whether we'd actually be able to do it. It all happened really last minute in the end, and we filmed in April of this year. The first series literally came out just before we went into the first lockdown, so Sandylands as a whole really bookended a whole pandemic for me. It was a real lifeline that I held on to. To go back into a seaside comedy, after not seeing anybody else for such a long time was exactly what I needed.
How was the actual filming for you?
Amazing, it's such a fantastic cast of some of the best comedians that we've got. I was so nervous about being among such a cracking cast, but I have to say from the writers, director, everybody, it's just been a real fun one. For this season, we've got the arrival of Tracy-Ann Oberman as well. It was sort of criminal how much giggling there was.
How did you get through the nerves?
I mean, there's a lot of talking to yourself in your trailer, like, 'get a handle on this, stop having so much coffee.' But coming out of a pandemic made the joy of working again so huge, because not only did we miss each other, but we're also part of the arts as a whole, which really suffered in terms of not having a voice and not feeling validated. So there was this real spirit of feeling incredibly lucky to work, but also the unadulterated joy of going, 'I really love my job!' Instead of shouting on Twitter or into the abyss that what we do is important, to actually be around people makes you remember all of the good things about it, which was just totally what was needed.
So is that one of the major differences are sort of seconds series, just that excitement of being around each other again?
Oh, my God, it was like having a birthday every day when you're young, where you're either ice skating, or bowling. It felt like that every day. It was at the stage where you could only eat outside and so we spent a lot of time in Western-super-Mare in the crapping rain, just eating fish and chips. It was the most British holiday experience I've probably had since Pontin's when I was 10.
It was like a school trip?
Totally school trip. Real putting your salt and vinegar crisps in your ham sandwich vibe.
Did that make things difficult for the director?
"We really are on a tight schedule!" Yes, I mean, Michael [Cumming] is wonderful as well, because he's got such a quiet command that he never ever has to raise his voice when playtime is over. But he's got so much respect from all of us and is also just incredibly warm – he hasn't got that authority where you feel like naughty schoolchildren.
Can you set up the second series for us? The last we saw of you was drifting off on a pedalo…
Towards Peru. Yes, so the second series really sets up having to look after my dad again, lovely Sanjeev who is still the worst dead person you've ever met. On top of that, it is very much about the arrival of mum, and how we get mum on side and what sort of dynamics she brings to the family. Suddenly, a lot of things make sense in terms of why everything is quite as dysfunctional as it is.
Were you keen to get your hands on the scripts see what happens next?
Yeah, totally. With the arrival of my mum, I had no idea it was coming. Because obviously I'm not a writer, so I'd have flights of fancy where I'm like, 'Maybe the next season will be in space' or 'maybe we'll film in Brazil.' When we did that first zoom read through with Tracy, and she said the first few lines of Donna, I was like, 'Yeah, this is spot on. This is exactly what was needed.' Her and Sanjeev just played beautifully together. Everything just clicked really really quickly, and when you've only got three episodes to do that, it's imperative that works. It just made the whole thing much easier.
Have the people of Western Super-Mare taken to you, were they giving you more attention this time around?
Yeah, we did get a lot of that. Also because so many people are so recognisable. David Walliams is not only incredibly famous, but he's so tall. You can't hide him anywhere. Simon Bird, as well, he's got such a recognisable face. So there was a lot of that, but people are so welcoming, and I hope they're quite proud that we're filming down there. We stayed in a beautiful guest house there and got treated really well.
Do you do much improvising on set?
The writers are very open and we're very lucky that they were on set with us. If you've got questions, or if something feels a bit sticky, you've got them on site to ask. There's not so much in terms of improvisation, but that's mainly just due to the writing being exactly where it needs to be. There is freedom in terms of saying maybe we can change or tweak this, having a discussion, which I think is quite key. Because, obviously, there's been a second season, and there is a little bit of these characters being in us now. You have more understanding to say, 'I don't know whether she really does like squirrels' or whatever it is.
How about your relationship with Sanjeev? He's a proper comedy legend.
He's got just the most incredible eyes! And he's incredibly warm. I was absolutely bricking it before we did the first season because I was very aware that compared to the rest of the cast, I was very much the newbie coming into the world of TV. He'd seen me before on stage, and we'd had like the occasional Twitter exchange, but he got in touch with me the night before we did the read through and sent me the loveliest message which completely put me at ease. It completely dissipated a knot in my stomach that would have been there all night – I wouldn't have slept and I would have had loads of coffee. And that sums up Sanj completely, he's got such a good overview of what he can do to make a situation nicer. And he just does it. When you've got those people on site, it just feels like the biggest gift sometimes.
And presumably that instils things in you that you can take forward in your own career?
100%. And it's so easy not to, because I think sometimes there's a fear of it. You can really talk yourself out of it: 'that person is alright, they don't really need me saying anything about anything'. And actually, everybody does. I mean, we're actors, and the majority of us are riddled with insecurity. To actually have somebody reach out and say something to put you at ease is a lovely thing to do.
How was last year? You were on a big roll winning awards for your theatre, so how did you start to reassess things in lockdown?
It was a weird one. The hardest thing was theatre suddenly being taken away. That had been such a staple of my life. I hadn't imagined a world without it. And so suddenly, everything is quite a stark slap, because you realise that, yes, some of the skills of acting are transferable, but this is what I want to do. I have to say, the one thing that did come out of it was I did some teaching back at my drama school, and was more involved on that side. I'd never really looked at that avenue before, and it was hugely humbling. Being a teacher is so much harder than anybody ever talks about. Also to be around drama students who are at the beginning of their journey was a wonderful thing – it's very easy to get quite jaded by the industry, and how difficult and unpredictable it is, and all of the negativity about trying to be an adult in a job that doesn't quite support the adult sensibility sometimes. To be around drama school students again at the beginning, and feeling that hunger and that excitement, and that real love of it, was just the injection I needed. I was watching 18 and 19 year olds doing something that the whole world is going: 'you're picking the stupidest career at this point!" But they were saying, 'I absolutely don't care, it's this or nothing.' There was that real flame. If you don't love it with everything, just don't do it. There's so many other jobs that will look after you much better than this one. That's the harsh reality of it. It has to be an all-consuming passion, otherwise it can make you really unhappy.
How do you sort of like look after your mental health in such a profession?
It's something that's ever changing. Everybody tells you it's hard. I was quite young when I started and you sort of go 'Yeah, yeah, totally…' And then you come out, and you're like, 'Oh, my God, nobody ever told me it was gonna be like this!' Nobody can prepare you for what it's actually going to be like, because everybody's journey is so different. For me, yoga and cycling and meditation and things like that, are quite helpful for me. But actually talking as well, as frivolous as that sounds. Sometimes it's hard to communicate with other actors, or certainly, I felt like that coming out of drama school, because suddenly all your friends that you were working with are all on different paths. Some of you might be working, some of you might not, so say if I'm working and my friend isn't, and I'm having a bit of a tough time, you can think you shouldn't talk to that friend. Suddenly you find yourself distanced from people because it feels like a champagne problem. When you're just like, 'Oh, God, I'm working and maybe the director doesn't like me,' it's like 'well, you're working…' I think it's about finding the right people and if that's not people in the industry, go to therapy. I couldn't recommend it more. People are paid to listen and you feel no emotional attachment to those people in a great way because you don't mind leaving the baggage there. On the biggest jobs I've done, I've always booked in therapy alongside it. Because I know that's something purely for me, to deal with insecurity or any anxiety that I can't share it elsewhere, because I'm worried about other people's feelings. I hugely recommend that. It's really saved me on a lot of jobs, I think.
Is that partly because of the potential demands of the particular role?
Yeah, it can be due to the pressure of the role. You'll do jobs in your life that cut a bit deeper, or have something that you don't expose in yourself all the time. So if that job demands you to have to go to that place every night for a year, or, six shows a week, and you haven't got something in place that feels safe, you can end up being quite lonely. Obviously everybody on jobs wants to support you, but it's a big ask to get somebody to support you in a way that they just don't know how to. If you can set something up purely for yourself, where you're not relying on anybody else because you've put that structure in place, I think that's a really kind thing that you can do for yourself.
What initially spurred you on to get into acting?
I'm just a massive show off. Well, it was a bit of that as I'm an only child. So very early on, I started doing impressions of Fawlty Towers, and Hyacinth Bouquet, and making people laugh. And then my parents put me into drama lessons, essentially to meet other children because they were like, 'your energy is insane, you need to put that somewhere else.' It was just a way to meet friends, a positive thing. I really didn't think about it as a as a professional career because I didn't really have somebody there saying it's totally doable. It was only when I was applying for universities and drama school that it became a reality – I really didn't have much of an understanding of what it was I was signing myself up for. But luckily, because I got in, that opened the door to this whole new world, and I never looked back.
What else have you got coming up?
I am filming at the moment. I'm not allowed to say what it is, sadly, but the Almighty rise of Netflix during the pandemic, and all the streaming sites, means the currency of filming has been really validated and I'm hoping that that continues. If we can at least keep the industry going with one sector of it, I'm really hoping that trickles down and infiltrates the rest of it and theatre can ride the coattails as it were. But there's so much exciting stuff because people have had time to write in an awful situation. New writers have had time to write and other writes have had that time to focus on new work, and it just feels that there's really exciting stories coming out
I wanted to quickly ask you about The Great – how was that?
It was really cool Nicolas Hoult was a great example of a leading man in a series because his kindness and attention to detail just trickled down. You can really see onset when you've got a strong leading cast like that, how everything works. But it was just a really good job and what I really remember from the job was it had a great catering truck. It was the best food I've had on set, I ever. It's got a special place in my heart because of that.
It's important, and I imagine the food must have been crucial for Sandyands as well?
I feel like I had scampi loads. I'd forgotten how great it was. On brunch days, it wasn't egg and chips, it was scampi which to me is like a dinner meal. We did eat very well. But also because it was raining all the time, I actually ended up cooking for the cast a couple of times, in this guest house. It was lovely.
You mentioned Pontin's earlier – what were your worst experiences with seaside holidays?
Pontin's was tricky because obviously the excitement of seeing other children was massive for me, because they weren't my parents. But as I'm an only child my parents did this really strange thing where if we I wanted to go on a ride – both my parents are quite scared of rides and get quite nauseous – they would give me to the family in front. So I have so many photos of me going down log flames with people I've never met. Just other families. It's really odd. I've still got a bit of a thing about going to any sort of theme park, it makes me feel alone.
Sandylands is on Gold on Sky now…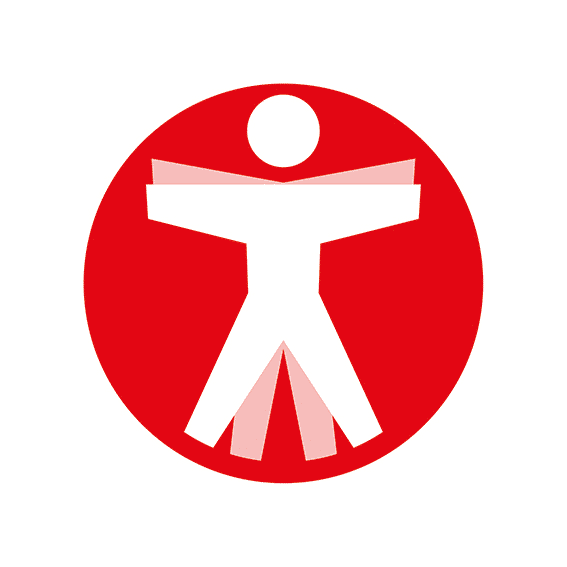 Join The Book of Man
Sign up to our daily newsletters to join the frontline of the revolution in masculinity.