A Tribute (What? He's dead?!!) to genius (Yes!) writer Tom Wolfe (He was God, man!).
The pioneering journalist and author Tom Wolfe died yesterday. Here is a small tribute of one of the greatest writers of the last 100 years. And funniest.
The sentences of Tom Wolfe were their own individual works of art. Smart, sharp, intellectually sound, yet also wild, raucous in places.
Tom Wolfe died yesterday at the age of 88. In the UK, he's a cult figure best known as the writer of The Bonfire of the Vanities (1987), which was turned into a famous flop film starring Bruce Willis.
Yet Wolfe had a fearsome literary pedigree in the States, as the man who invented the New Journalism, the novelistic, showy, but admirably in-the-thick-of-it approach to journalism which took over US magazines like Esquire and New York in the 1960s and gripped millions of readers at this pivotal time in history when low culture smashed into high culture, there was fighting on the streets and assassinations on the news. Wolfe was on hand to nail down the chaos into print. There were other great writers like Gay Talese and Hunter S Thompson, but only Wolfe and Joan Didion have truly dated well from that era – it's no coincidence that both, for all Wolfe's trademark white suits, chose to blend in and observe rather than, say, take loads of drugs and attack people.
Not that he was above stylistic embellishments. In fact, he was the worst. Just check out the title alone of his (pre-Fear and Loathing, by 8 years) Vegas expose: 'Las Vegas (What?). Las Vegas (Can't Hear you! Too Noisy). Las Vegas!!!!'
Oh, and the first paragraph of it is just the word 'Hernia' repeated 60 times. Don't even ask.
Although Wolfe wrote novels like the celebrated 'Bonfire…' and 'Back to Blood' in 2012, his greatest achievement was that journalism and the high watermark of that was his book 'The Right Stuff' (1979) about the test pilots who were secretly trained up to be astronauts in incredibly high risk situations in the early days of the space race.
Later turned into a film, we would urge anyone who hasn't read the book to do so – it is, frankly, fucking amazing in tracing the lives of these pilots who were "willing to sit up on top of an enormous Roman candle, such as a Redstone, Atlas, Titan or Saturn rocket, and wait for someone to light the fuse."
In celebration of his remarkable life and career, here are some of our favourite individual lines from Tom Wolfe's work.
'He could truly see into people for the first time –And yes, that little capsule sliding blissly down the gullet was LSD.'
From The Electric Kool-Aid Acid Test, 1971
'Las Vegas is the only town in the world whose skyline I made up neither of buildings, like New York, nor of trees, like Wilbraham, Massachusetts, but signs.'
From 'Las Vegas (What?). Las Vegas (Can't Hear you! Too Noisy). Las Vegas!!!!', 1963
'In this legend, here is a country boy, Junior Johnson, who learns to drive by running whiskey for his father, Johnson, Senior, one of the biggest copper-still operators of all times, up in Ingle Hollow, near North Wilkesboro, in northwestern North Carolina, and grows up to be a famous stock-car racing driver, rich, grossing $130,000 in 1963, for example, respected, solid, idolized in his hometown and throughout the rural South, for that matter.'
From 'The Last American Hero is Junior Johnson. Yes!', 1965
'Things have been going on in the development of kids' formal attitude toward cars since 1945, things of great sophistication that adults have not been even remotely aware of, mainly because the kids are so inarticulate about it, especially the ones hipped on the subject.'
From 'There Goes (Varoom! Varoom!) That Kandy-Kolored (Thphhhhhhh!) Tangerine-Flake Streamline Baby (Rahghhh!) Around the Bend (Brummmmmmmm…..' 1963
'He is only twenty-one years old, but the latter-day career of Cassius Clay is going to be one of the intriguing case histories of American boxing or show business or folk symbolism or whatever it is that he now is really involved in.'
The Marvelous Mouth, 1963
We recommend you buy all of the work of Tom Wolfe, but particularly The Right Stuff: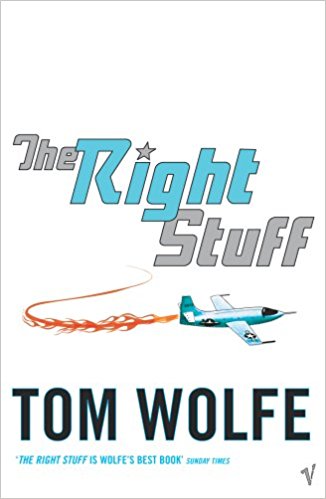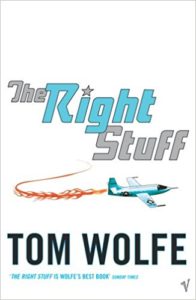 The Right Stuff by Tom Wolfe
The legendary book about the swaggering test pilots who trained in secret to become the first men in orbit.
www.amazon.co.uk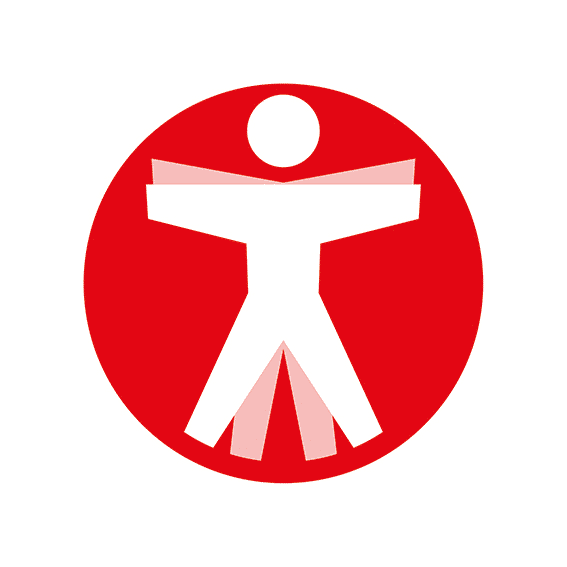 Join The Book of Man
Sign up to our daily newsletters to join the frontline of the revolution in masculinity.