'How Cialis® Together Tackles Erection Difficulties'
Advertisement promotion. Cialis® Together is medication for erection difficulties and helps to get and maintain an erection when you need it.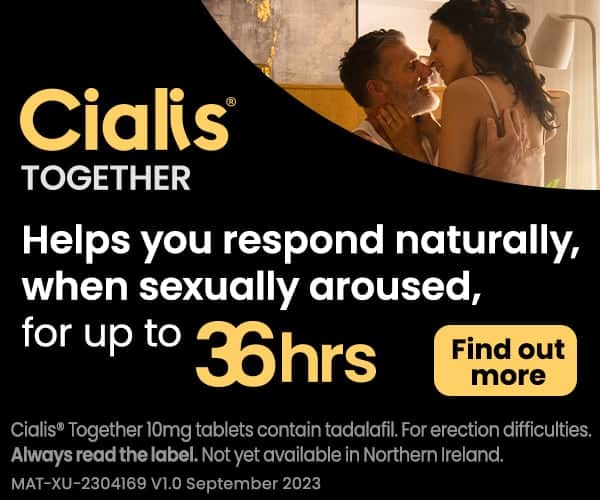 Confidence in the bedroom is an important factor for any relationship. For men, one of the main conditions that can impact confidence are erection difficulties (ED). And it is something that can have a negative impact on their lives, since it could make them feel ashamed and anxious with their partners. One of the particular issues here, is that erection difficulties – often referred to as erectile dysfunction – run counter to traditional masculine expectations of bedroom performance, and can make individuals feel like they're failing as a man.
And due to the taboo status of erection difficulties, most men are less inclined to talk about it. The fact it is socially off-limits as a subject matter means help often isn't sought, and erection difficulties can be misunderstood turn into a secret shame that undermines confidence.
This is why the purpose of Cialis® Together feels so important – effective medication for erectile difficulties that can fit into couples' lives in an authentic manner due to its long-lasting effects which allow for natural spontaneity. 'Together' being an important aspect of this product.
What is ED?
Erection difficulties are the inability to achieve or keep an erection for satisfactory sexual performance  – and it is estimated that 1 in 3 UK men experience ED: a survey in 2021 found that 3445 (34%) of over 10,197 adult men interviewed were qualified or identified as suffering from ED. This means it is a very common condition, despite it being a little understood or talked about matter. 90% of men with ED have at least one underlying physical cause for their problem. Causes can include cardiovascular disease, diabetes, hormonal problems and drugs, neurological disorders, and high cholesterol (indeed, in some instances, ED can be a sign of health condition, so if you are concerned, please consult your GP). A psychological component – often called performance anxiety – is common in men with ED. However, a purely psychological problem is seen in only 10% of cases.
Studies have shown that ED can have a profound impact on the quality of life of men, negatively affecting their emotional and psychological wellbeing and self-esteem, as well as their relationships. The sexual and emotional lives of partners can also be negatively impacted by ED, which can lead to significant relationship difficulties and distress.
Thankfully, things are now changing – in recent years conversation around supporting men with their issues has grown in everything from depression to fatherhood, and more open conversations are now happening around sexual matters. And this new understanding is tying into scientific developments to better support men.
It's been proven that effective treatment for ED can help improve sexual satisfaction for men and their partners and can increase sexual self-confidence, helping people to have better relationships and potentially a better quality of life.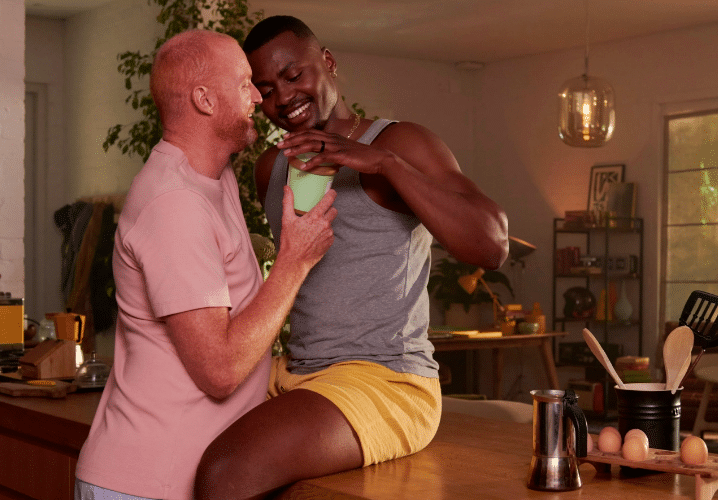 What is Cialis® Together?
Cialis® Together is a medication which is used to treat ED. It contains 10mg of tadalafil, the active ingredient which increases blood flow to the penis during sexual arousal. "It works by widening the blood vessels in your penis," says Aurore Bourdeau Cialis® Together Marketing Manager, "which help to achieve and keep an erection for sexual intercourse for up to 36 hours, but only when sexually aroused. The erection should subside after sexual activity."
Because it only gives you an erection when you are sexually aroused, it helps you respond naturally when you are ready for sex as couple. And since Cialis® Together uniquely works for up to 36 hours, it fits into the realities of a relationship: it is not that you have an erection for 36 hours of straight sex (!), rather, it will work to support you when you are sexually aroused during that period – more time than other non-prescription ED pills* – allowing for that all important spontaneous sex when the spark are flying! In other words, you can decide together when the moment is right for you.
How do you know if you might need it?
People are often unsure of whether or not they have erection difficulties, since, of course, it's seldom discussed. Here are the signs that you have erection difficulties:
Having erections that aren't hard enough for sex
Having erections that don't last long enough for sex
Achieving an erection only sometimes or not at all.
"Keep in mind that some men experience erection difficulties occasionally, while others may experience them more regularly," says Aurore, who recommends talking to a pharmacist about issues you may be facing, or a GP. If you are intersex, or trans or non-binary, a healthcare professional should be able to offer advice.
The important thing here is to understand there is no shame at all in seeking help for erection difficulties – indeed, it is a brave thing to do considering the misunderstandings around the issue.
How do you get Cialis Together?
It is now available to buy in a pharmacy without a prescription in Britain for men over 18. You'll need to fill out a checklist with questions to share with your pharmacist to make sure Cialis® Together is right for you.
How do you take it?
You take one tablet with a glass of water at least 30 minutes before sex. You can take it on an empty stomach, or with food, there will be no delay of action as you may get with other ED medications like those containing sildenafil. But you shouldn't take more than one a day.
Next? Well, Cialis® Together only works when you're sexually stimulated, so you and your partner can head down your preferred path to that destination – with up to 36 hours of spontaneity to enjoy.
Importantly, the process of talking about ED with your partner, and agreeing to seek help as a couple, can help form an understanding that may improve relationships. Breaking through this taboo may well be a life-changing moment.
*To verify please email uk-medicalinformation@sanofi.com
Cialis® Together 10mg tablets. For Erectile Difficulties in adult men. Before taking Cialis Together tablets, discuss with your pharmacist to ensure the product is suitable for you. Contains tadalafil. Always read the label.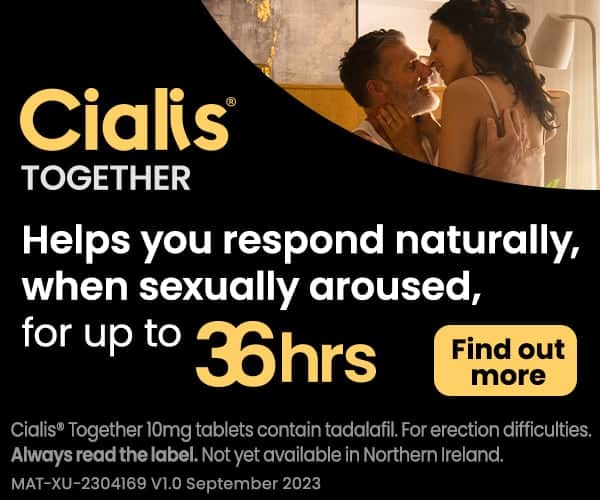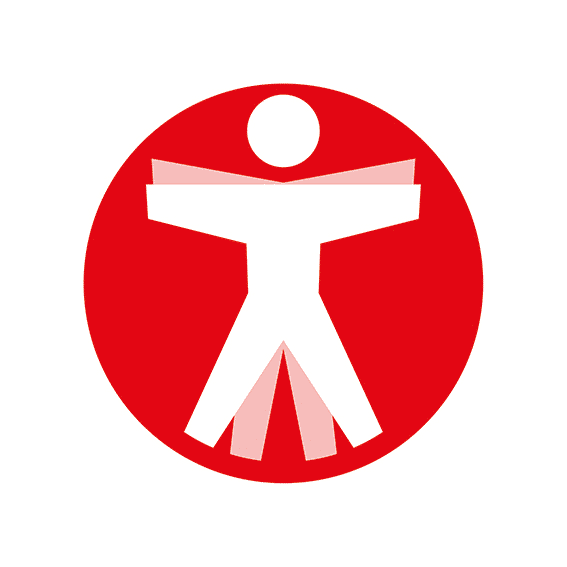 Join The Book of Man
Sign up to our daily newsletters to join the frontline of the revolution in masculinity.