Underwear for the Non-Six Packed
An interview with the founder of new underwear brand Box & Scandal, who have a strict policy of using real bellied models (in animal masks).
At The Book of Man we've been calling out for clothing and grooming brands to 'Get Real', in an effort to change the representations of the men we see in their communications – yes, we're bored of the six-packed Adonis sitting on a mountaintop, to say nothing of the gradual psychological damage of having absolute bodily perfection every time we shop for anything. It was therefore most refreshing to come across new subscription underwear company Box and Scandal. A UK start-up from the North-East, they were founded by Rob Nicholson, who is passionate about underwear but also for brands to be more responsible in their portrayals of men: "There has been a backlash against emaciated female fashion models and the 'body shaming' of women. But for men, there has been near silence on the same issue."
In the spirit of breaking that silence, we spoke to Rob about the brand, the brilliantly real models they use for their campaigns, and why the hell those models wear animal masks… 
Can you tell us about the conception of Box & Scandal? 
I hated the inconvenience of buying underwear and more so the marketing behind the over-priced, high end underwear that was available to me. I thought quality shouldn't be that expensive for such a small item of clothing. So, I began my quest to source a manufacturer that could produce me a snug fitting, light, high-quality cotton pant at a fraction of the cost.
It turns out, that's not as easy to find as originally thought! What I imagined would be a quick job ended up being a three year search. But roughly 100 samples down the line and a LOT of extensive pant testing, Box and Scandal was born.
What images of men do you want to put forward? And why do you think it's important?
It's really simple: Any image, of any man.
Our point isn't that you shouldn't go to the gym and get yourself in better shape or that you can't have a six pack, it's that most men don't have one and they're still happy with the way they look.
So why are we made to feel so uncomfortable in underwear unless we have a body like a male model? Because of the way the industry markets underpants! They only use these guys that were born in a gym, or celebs that have been on a six month training plan to wear their underwear. It's embarrassing that we think that's the only way to market at men, but it's also something we should be aware of because it can have implications. As a society, we've spent a long time pushing back against unrealistic female body image in the media, but we're not doing the same for men – and at a time when male mental health is a real problem, it's important that we all start to take action in our own, little way. Men should be comfortable in their undies and loved for it; love handles, belly and all.
Should brands take more responsibility for the way they depict men?
Definitely. When people think of underwear models, they immediately think of a bronzed guy with a six pack.  It tells the wrong story. 'Wear our pants and you'll look like a celeb or a male model.'
We all know that's not true, but we buy in to it. Celebrities sell products – we all know that. And at some point in the future, I'd love for Box and Scandal to be able to partner with high-profile names for advertising campaigns, but they don't need to be ripped! Underwear is about comfort and happiness, but how often do we ever see underwear brands selling their products on how comfortable they are? It's odd that the simple things we need from pants are never the things we talk about. Box and Scandal tackles those issues with a bit of humour and our customers appreciate that.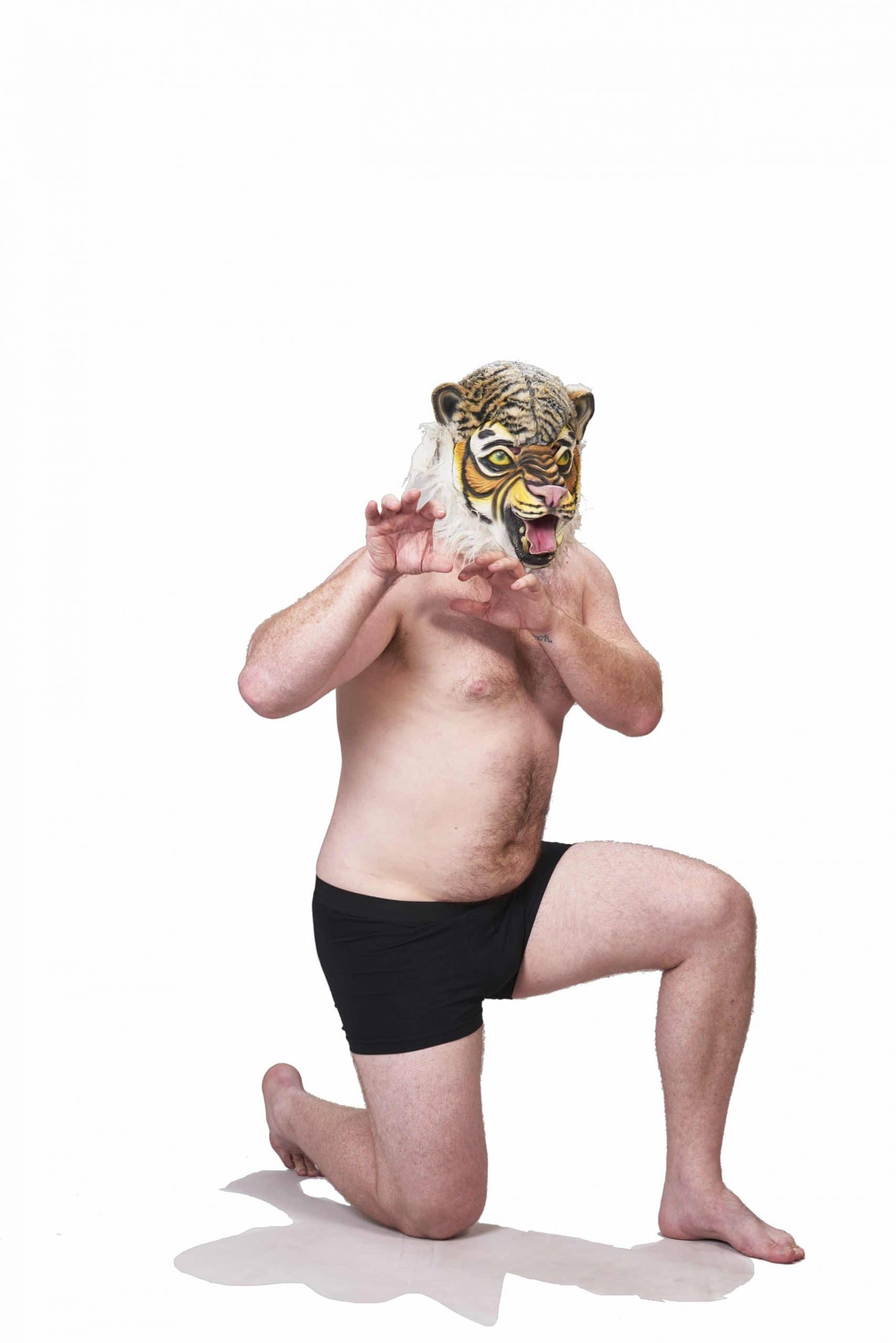 Explain how you handle humour in your campaign? 
We cover all our models' heads with masks of some kind. This helps separate us from your standard underwear branding, because anyone could be behind the masks, which is the point of the campaign. It could be you, it could be your mate from the pub. It doesn't matter because we are all equal just different sizes.
We don't use sexy poses – it's all done with a nudge and a wink. The slapstick humour of the masks coupled with the mocking of how underwear should be modelled I think rolls nicely into a relatable brand.
What kind of reactions have you had to your shoot so far?
So many positive reactions. Guys, especially, are loving the message. Strangely enough I think if anything, our struggle has been the reaction from some females. They want their man in the CKs as they see this beautiful model in the pants and they want their man to look like that.
That's all well and good – we understand that advertising is aspirational and that drives people's desire to buy products, but the chances are your man isn't a Calvin Klein model! But, they're still the man you love and our pants will bring them absolute happiness maybe even more, at a fraction of the price… so get with it, ladies! It's a win for everybody!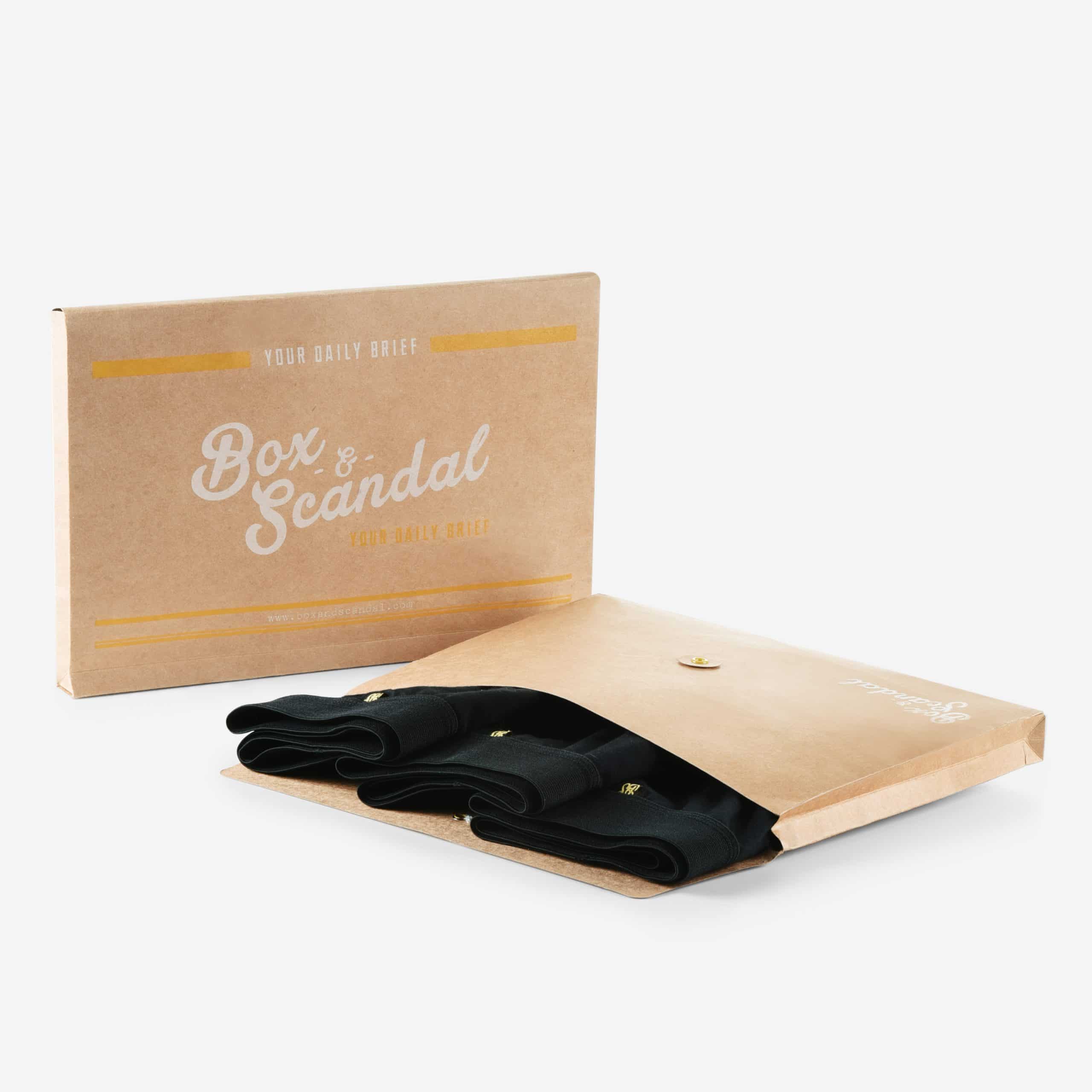 Are your pants any good? Explain please!
They are a 95% cotton, 5% elastic. We aren't changing the world here. But I have sourced many a pair of undies in the build up to these pants and it really is incredible how many different types of cotton there are. We've sampled just about every one and what we've created is a super comfy cotton pant that'll nestle your Crown Jewels in luxury. We're getting some amazing feedback on the comfort of the pant, the waist band is slightly larger than normal so it holds your hips more and it's designed for a snug fit. Users have bought other brands of pants at the same time and are sending feedback that ours are holding better over time, which is key. They're comfy, long-lasting, reasonably priced and most important of all is that you don't have to leave the house to buy them. We offer subscription services, so you'll get fresh pairs arriving in the post and you'll never be reduced to wearing knackered undercrackers again!
Which famous person would you most like to wear your pants, alive or dead??
Winston Churchill! My God, that man held it together in hairy times and for sure he would have needed comfort when making such life or death decisions. It's a reasonable rule to live by that you should never trust a man to make important decisions when he's wearing two-day-old pants. So Winston with a Box and Scandal subscription would be a safe pair of hands for us all.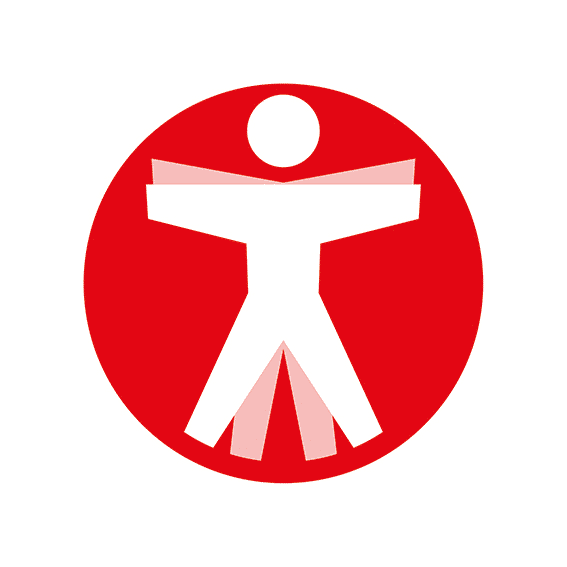 Join The Book of Man
Sign up to our daily newsletters to join the frontline of the revolution in masculinity.