This amazing new partnership between The Book of Man, H&M and Campaign Against Living Miserably encourages men everywhere to get outside for their mental health. Jordan Edwards reports from the partnership's central event: an urban to wild hike with a group of men and special guest mentors…
It was a brisk morning in Walthamstow but with coffees in hand, the guys met up for the first time and began getting to know each other. Awkward as initial meetings always are, especially with a group of men who were from a variety of different backgrounds, everybody shared one thing in common: a desire to embrace the outdoors for the good of their mental health.
This was the big day for the Explore Your Nature project, a partnership between The Book of Man, H&M and Campaign Against Living Miserably, and involved heading out on a hike from an urban setting into the wild. A group of men had been recruited from around the country to take part, to be led by a team of mentors who were also arriving outside the station: poet Hussain Manawer, Royal Marines veteran, author and speaker Mark Ormrod MBE, explorer and adventurer Dwayne Fields and presenter and broadcaster Roman Kemp. Together everyone would be experiencing the power of the outdoors in both a city and a nature setting. The destination was Epping Forest, but the journey was the important bit, as throughout the day the participants were invited to connect with each other and themselves, but  also challenged to learn some essential life skills. Plus the odd bit of bushcraft, naturally.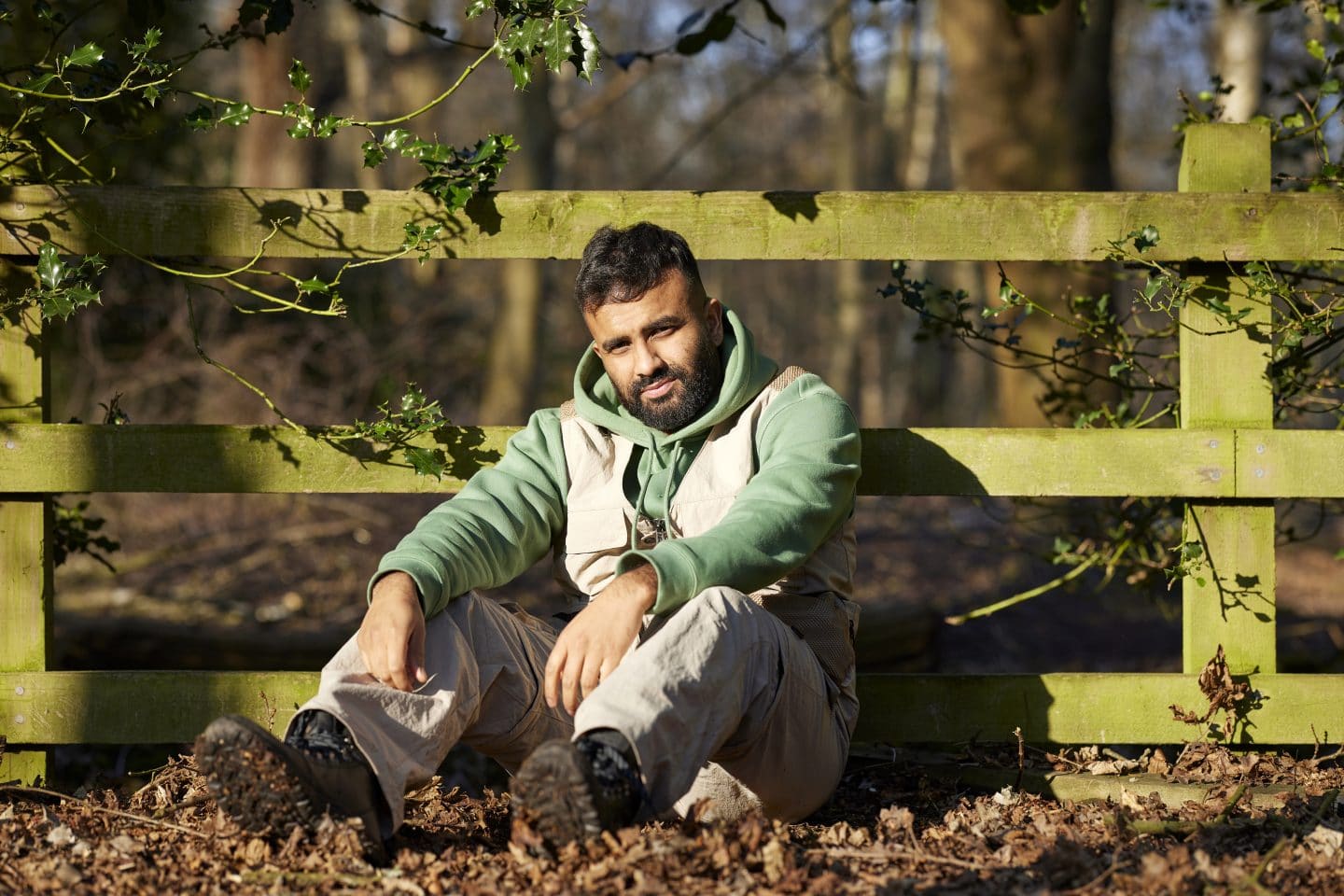 Explore Your Nature was sparked by H&M wanting to do something different with their new Menswear sport hiking range. To connect it to men's mental well-being as well as physical. A major part of this was to donate 10% of proceeds from the range to Campaign Against Living Miserably and their incredible work battling suicide and running a helpline for those in need. But it was also about inclusivity, about showing that all men, no matter what they look like or where they're from, can get involved in outdoors activities. This is a world away from the usual elitist outdoors 'solo man against the elements' fare, and is something that drew Hussain Manawer towards the project. He said, "I've always been such a big fan of going outside. I've climbed Kilimanjaro, the Brecon Beacons and others, but one thing I noticed was there was never anyone who looked like me in those places. I'm always in the wild, but when you look at it later you realise it isn't very inclusive. When I was approached about this, that was one thing that was appealing to me."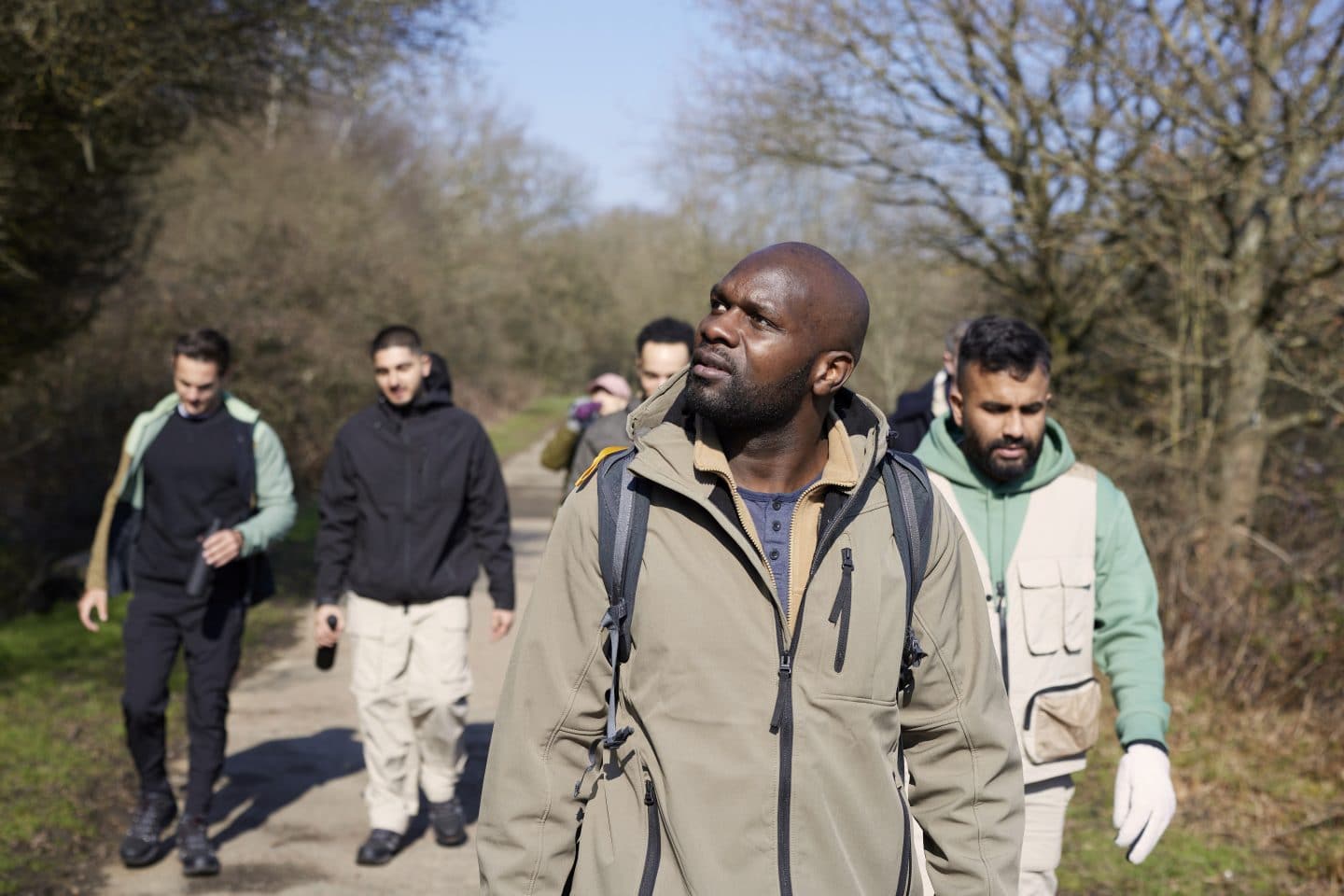 Dwayne Fields.
Once gathered, the group began the walk to the forest, kitted out in the new range, and as well as the good cause behind it, there was plenty of excitement about simply being out and about with a group of people. The past two years in Covid world have often prevented such simple joys and now it feels revelatory. Talking to the participants one-to-one, it quickly became clear how much they all valued the outdoors so much more. Some of the more city focused men told me that they routinely connect with the natural world as a matter of priority and others wished they had more accessibility to it; be it parks, fields or forests – anything that could occasionally help to reduce stress and rebalance the mind.
Upon arriving at Epping Forest, the first thing on the agenda was a trail walk, a trek through the forest, absorbing the fresh air and continuing to learn more about each other's life experiences. Dwayne Fields, a Scout ambassador as well as a polar explorer, and who is currently running a project where he's recruiting a team of young people to go to Antarctica, said this escape from the "stressors" of city life acts as a "reset". "We're exposed to pollutants, we're exposed to other people, we're exposed to so many inputs that are causing the stressful state that we're living in," he said as we walked, "When we come out here, and we're in a place where it's quiet and you can only hear the sound of the breeze and trees and a few birds and a few other animals – actually that's the space that we've evolved to live in which is why it's an environment that de-stresses you. I'm not saying it's the answer to all mental health problems or challenges but it's part of the solution." It does seem like, as a society, we have forgotten how to appreciate the environment that we evolved to live in: to take a moment to stop, feel the breeze and listen to the animals around us.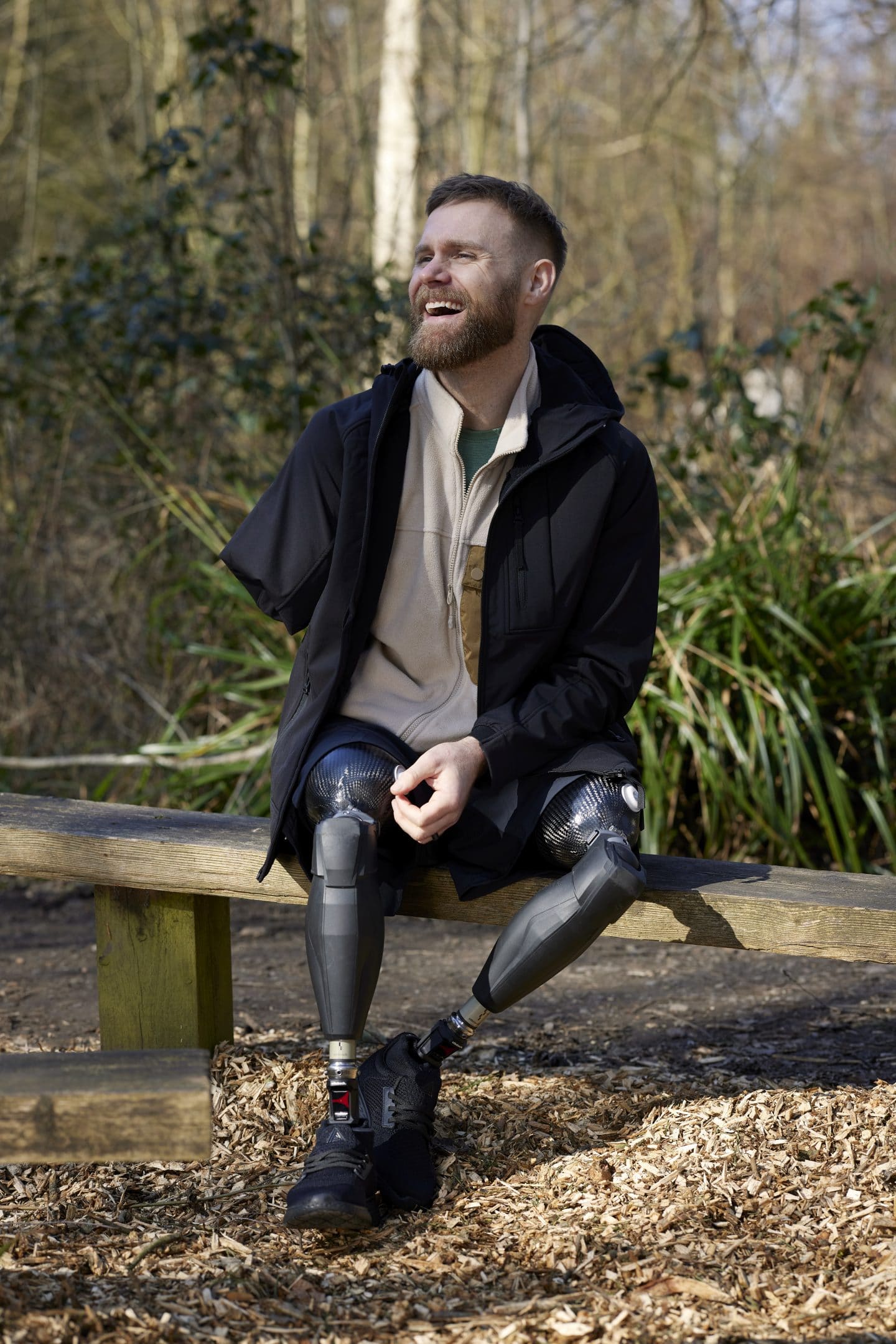 Former Royal Marine, Mark Ormrod MBE certainly holds physical activity and meditation at the top of his mental health checklist. Starting his day with these brings everything into perspective and allows him to attack the day with positivity. "I've got this whole routine now where I'll wake up, I'll meditate, I'll do some breath work, I'll train and then I have cold showers. This is all before 8 in the morning. I'm wired for the day, then. I think when you do stuff like that, if you start your day off slightly uncomfortably, everything else seems easy. It takes time, it's 1% gains but you build and build and build and build until your mindset becomes almost bulletproof and nothing can really bother you because you're like 'well I've already trained, I've already been in a freezing cold shower, I've already got my mind in the right place with a ten minute meditation.' You can have those days where you're just firefighting problems all day but it's a lot more manageable if you set off in the right way."
After their hike, the boys' skills were put to the test in their first bushcraft activity of the day. They were divided into groups and tasked to use the natural resources at their disposal to build the most resilient and efficient shelter. It was great to see everyone working together and having fun… It's often said that men struggle to open up to each other but the importance of having a social activity to engage in can't be understated. Having a laugh is what creates bonds and brings us closer together and it seemed like, on the day, the guys were really enjoying getting their hands dirty. Being mostly city-boys, needless to say, their creativity was tested with this one but out of that came some fantastic results…That being said, I'm not sure there were any volunteers to be inside their shelter when it came time for the famous 'water test'.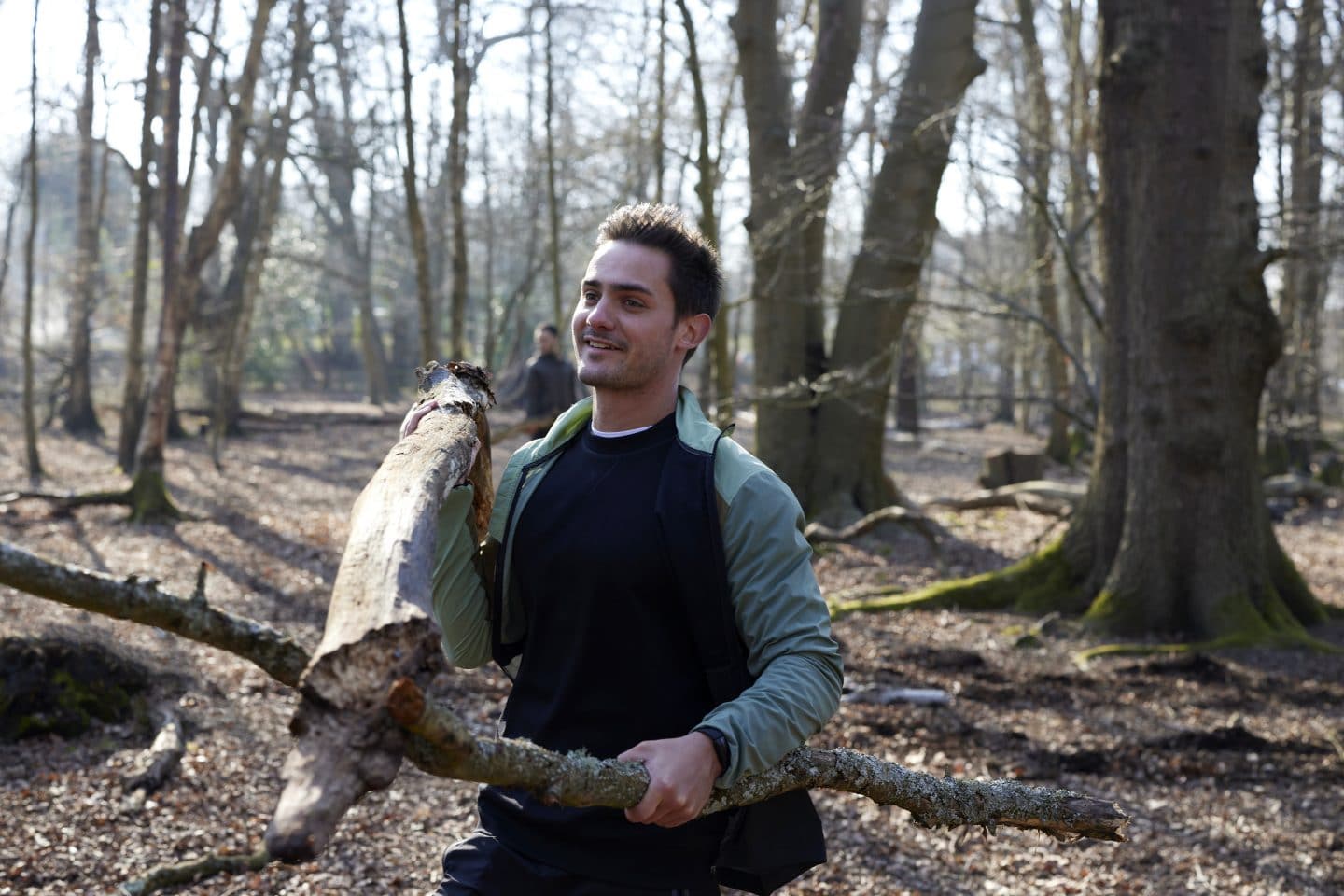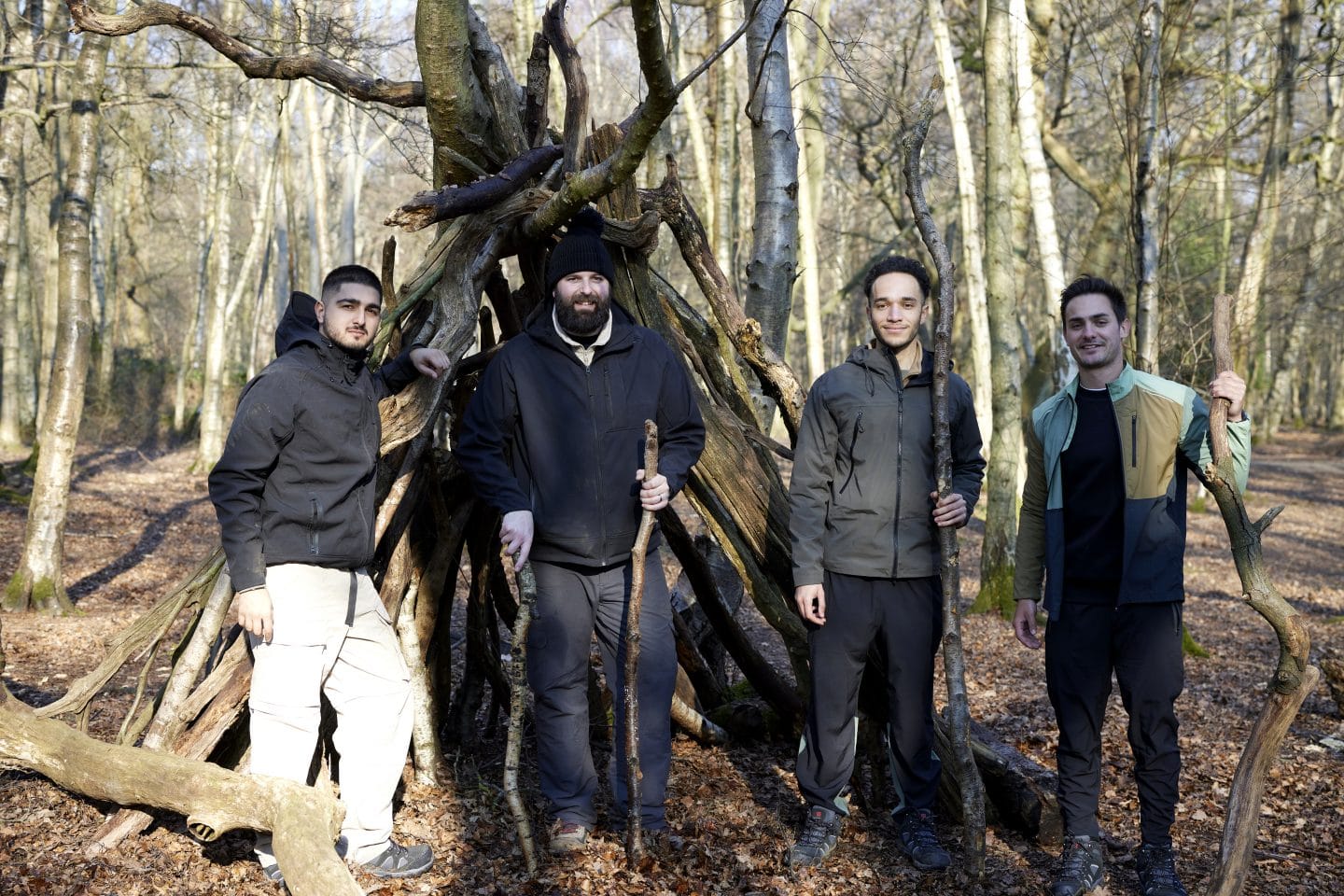 Top: Tom, Bottom: Jai, James and Vasco
Broadcaster Roman Kemp took a moment aside to talk to me, and said this kind of break away is entirely necessary as a retort to the pressures of life, career, and being a 'success'. He said, "It's that classic thing of when someone says to you 'where would you like to be in 5 years?' I'd rather look at what I've done in the last 5 years and then be excited for the next one and just think 'I don't wanna set out a plan, I just wanna keep going' and 'how lucky am I to do this today?' That pressure of 'what are you doing next? That's good but what's next?' is too much on some guys and is a huge factor in the suicide rate."
Adopting this attitude of appreciation can help us recognise the value that we hold intrinsically and promote a much healthier personal attitude; we're more inclined to be kind to ourselves.
To close out the day, we all gathered around to learn the principles of camp-fire building. After some preliminary warnings and ground rules, the flint and steel pieces were handed out. There was a little bit of hesitation from the group at first but they all took to it like Bear Grylls to grub eating. In no time, we had a sizeable fire going and we were able to get some marshmallows toasting. Whilst waiting for the kettle to heat up for some much needed warmth, we played some campfire games that were…interesting to say the least. Led largely by poet Hussain Manawer, it felt like these guys had known each other for years. The laughter and smiles were unique – coming as a result of genuine bonding throughout a collective experience that they all now share.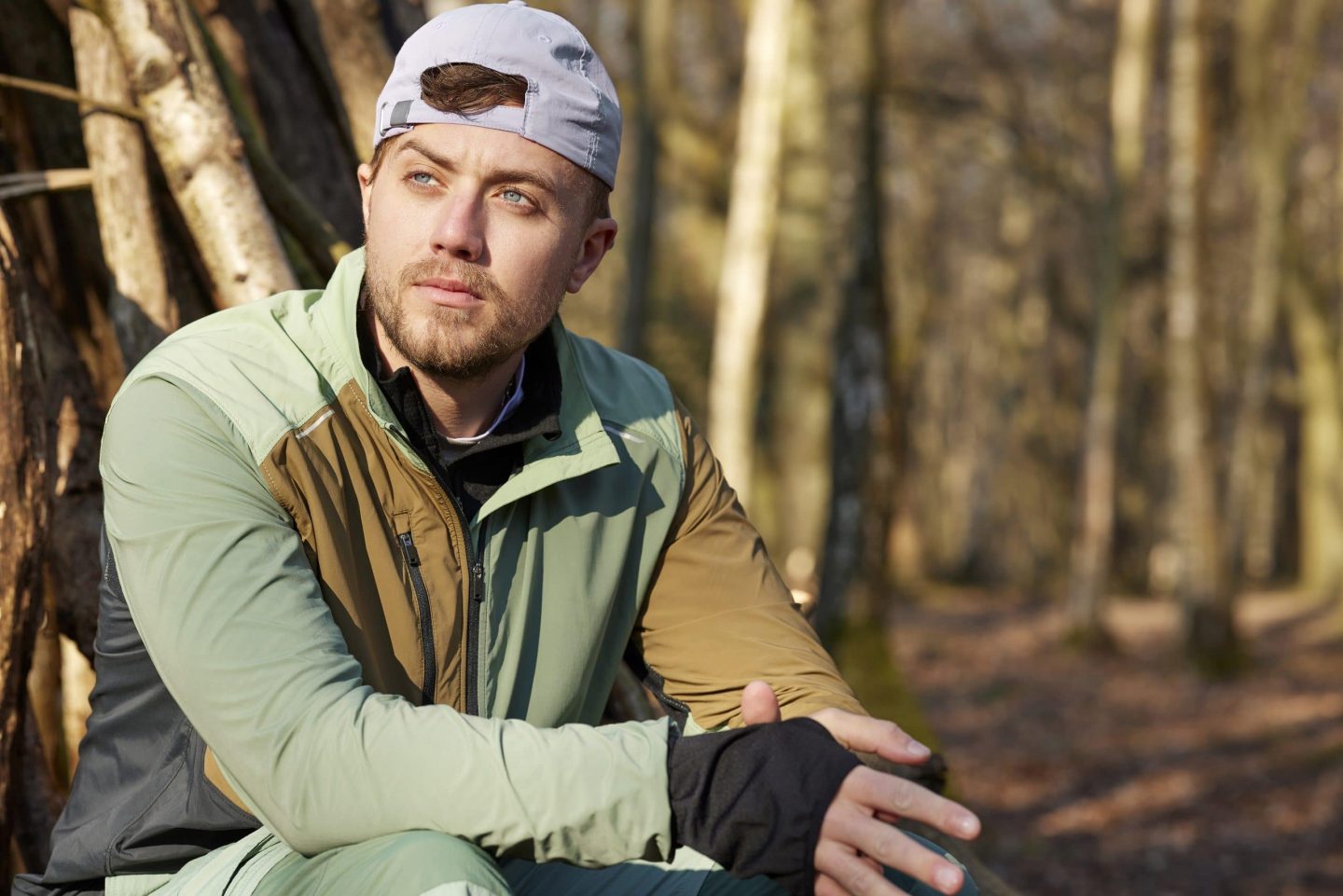 Roman Kemp.
By this point in the day, as things were slowly drawing to a close, the guys were starting to reflect on their experiences. It's incredible that just one day away from the city can help you to slow down your mind and almost return you to a state of childhood. Catching up with Dwayne, I could see the pride he had in being involved in a project like this one: "I looked at some of the guys' faces towards the end of the day and they get it! They needed a day like this! One of them said 'it just felt like being a kid again. We were building shelter's and it felt like being a kid again' and he just kept repeating it. And that's exactly what today should be about; it's a reset – going back to something that you know, back to something you recognise. You don't know why you recognise it or why you know it but it's going back to that feeling where you feel refreshed."
With the campfire still crackling, the group gathered around and were presented with a poem written by none other than Hussain. His words encapsulated the mood and was a beautiful way to reflect on the day. I must give props to Hussain because throughout the day, I was wondering which of his poems he would choose to perform; needless to say my jaw dropped when I realised he had written it that day and everyone was getting a mention. Even with such a busy day, with so much to absorb, Hussain was able to tune into his creativity and provide the guys with the perfect sign off.
Although half asleep having been put through their paces physically and mentally, there seemed to be an air of disappointment that the day had come to an end. Everyone was feeling in a better place than when they arrived, but now it was time to leave the forest and head back into the concrete jungle and every single person involved was taking something valuable away from the experience. For many, their highlight was going from complete strangers to really getting to know one another and that's what it's all about. As we've established, the benefits of exploring nature are significant but being able to do it together and have fun will help to understand yourself a bit better but also to understand how similar we all are. So whether you've been thinking of going for a trek with your mates into the forest or just a stroll through your local park, do it! Just make sure you remain present and mindful so you can appreciate every minute.
Visit hm.com to view the new sport hiking range.
Watch all the videos from Explore Your Nature here.
Read the personal columns by Hussain, Dwayne, Mark and Roman.
For further information on Campaign Against Living Miserably and for help with mental health issues, head to calmzone.net
All photos by Hamish Brown.
Creative Director: Marian Paterson
Video – Director: Ben Falk, DOP: John Fisher, Editor: Harvey Quirke, Drone operator: Stephen Hardman.
Thanks to Hannah and the team at the Field Studies Council in Epping Forest.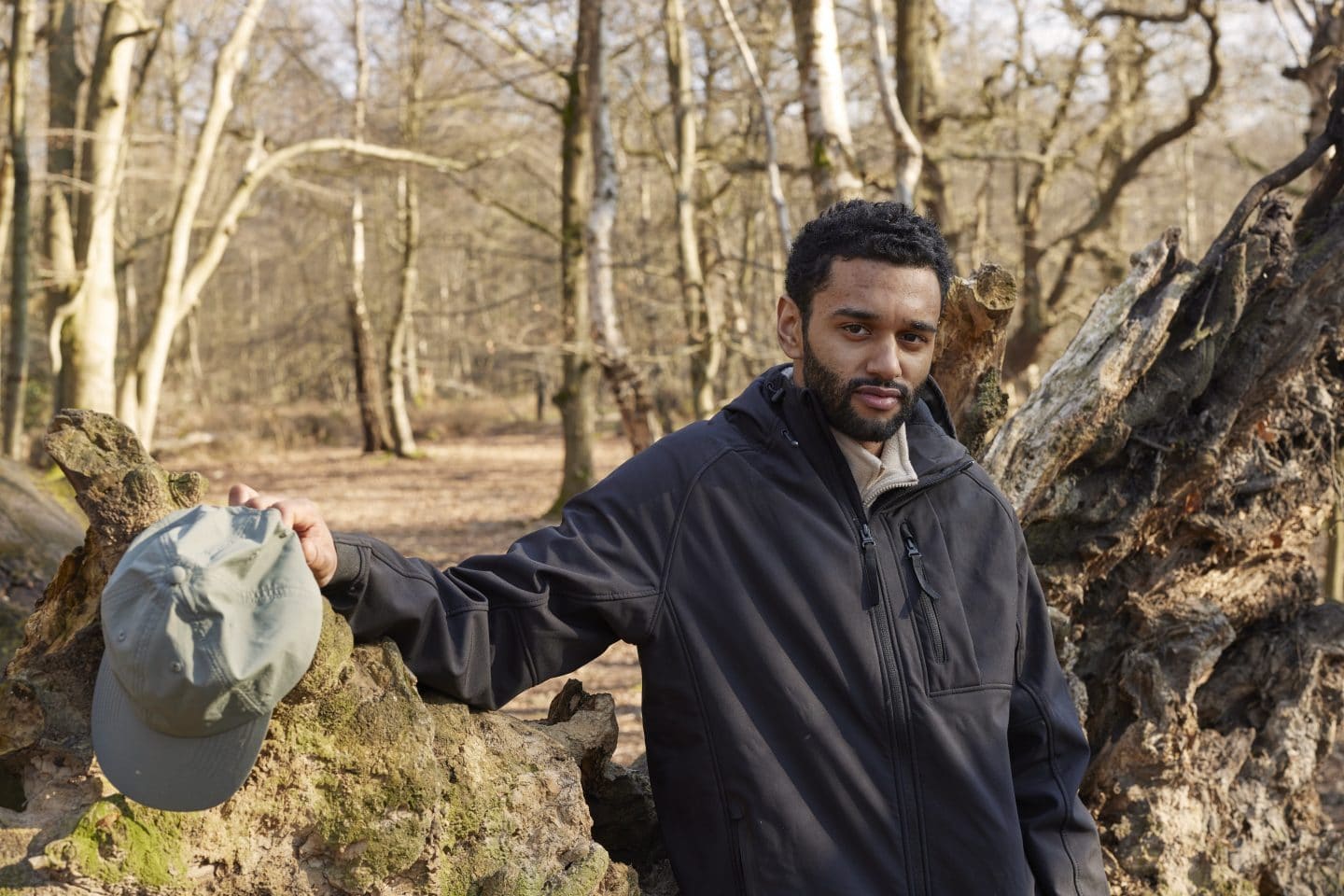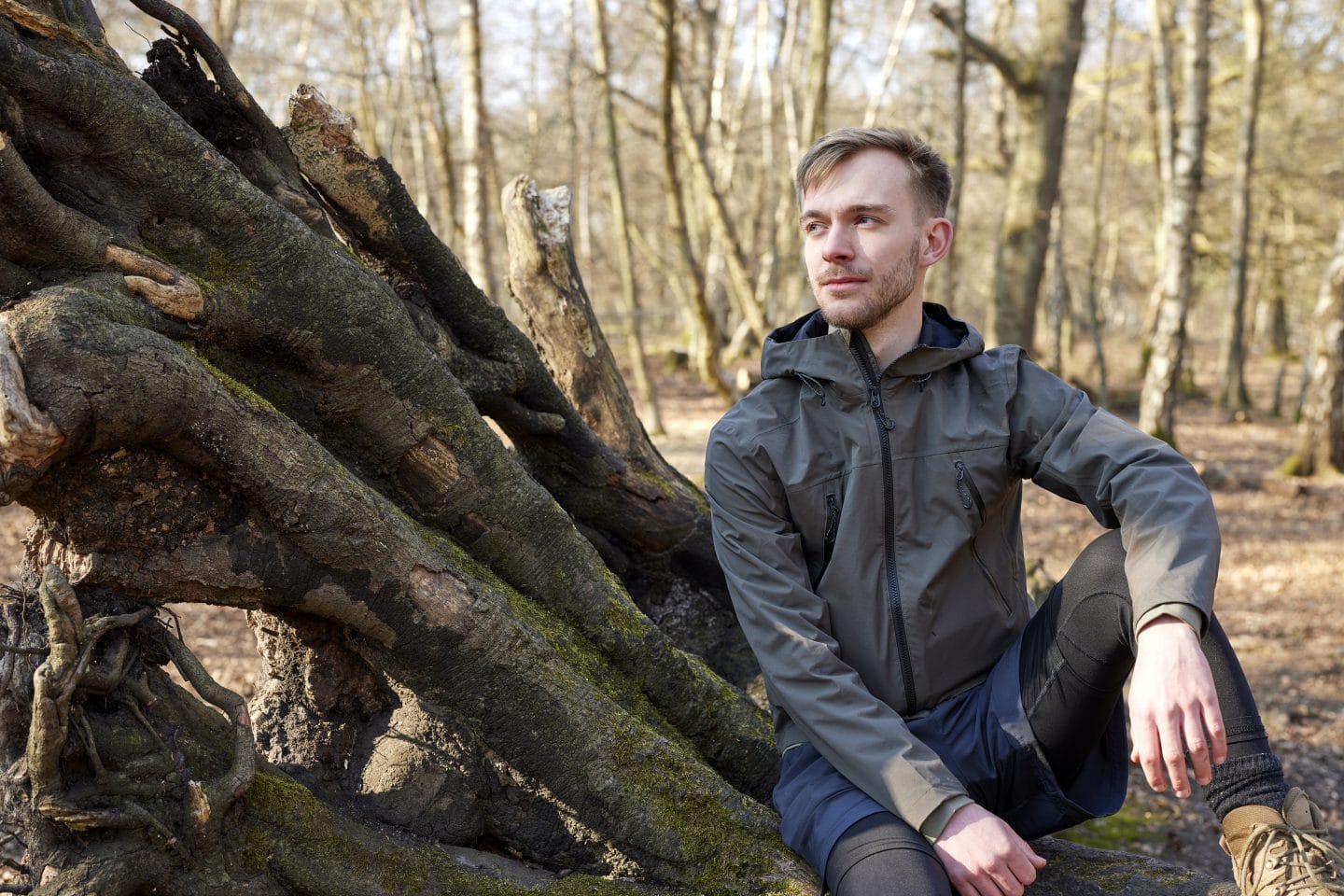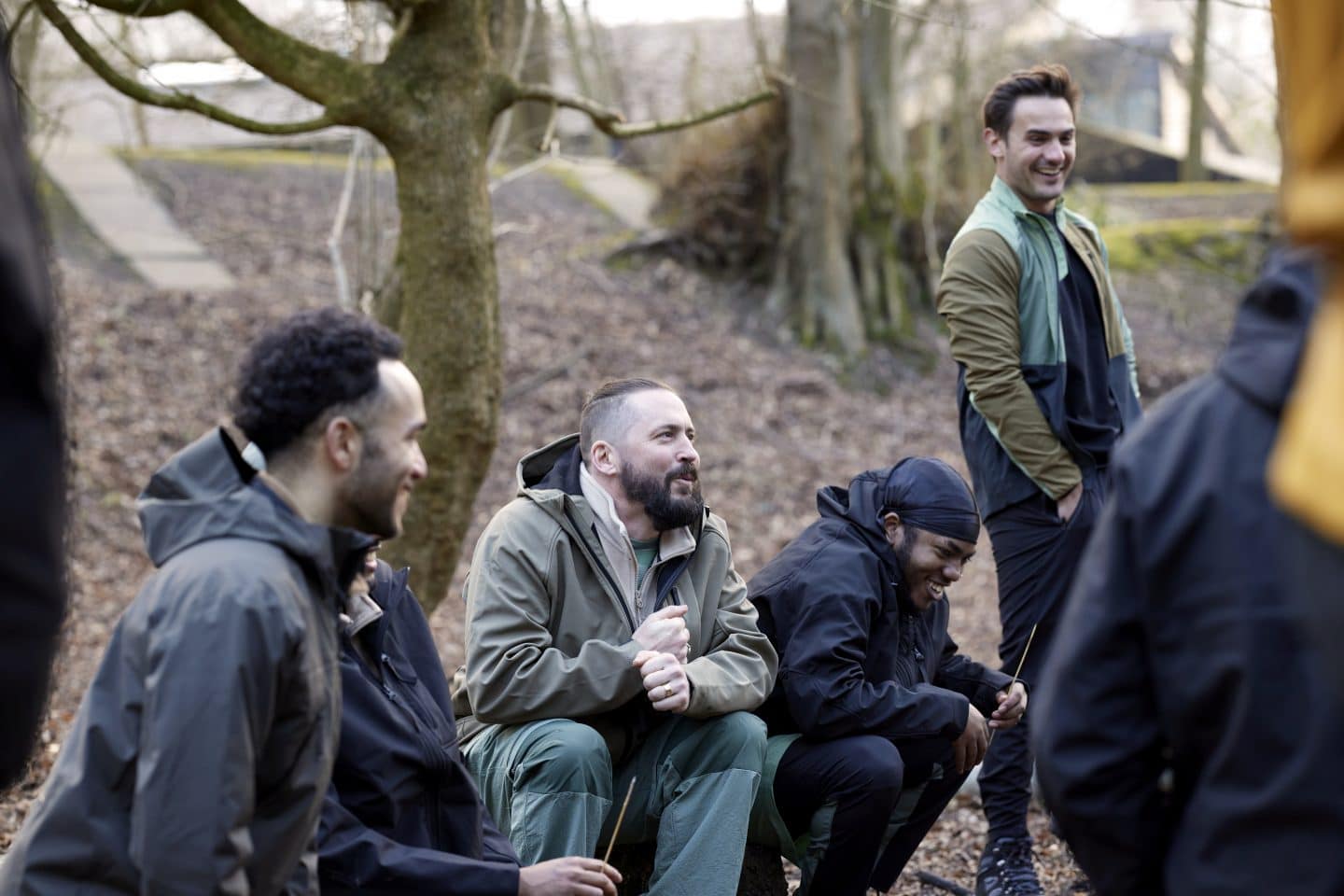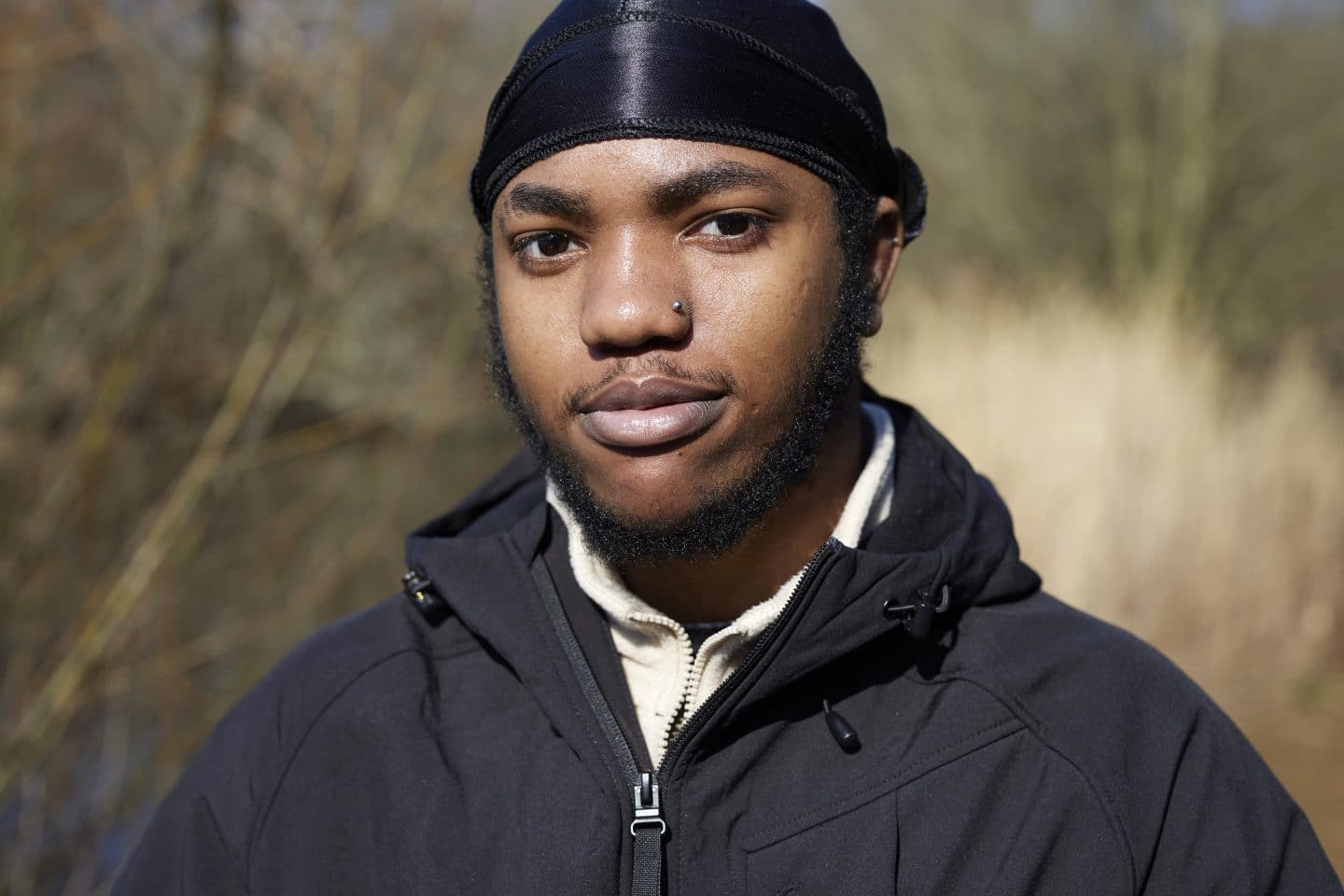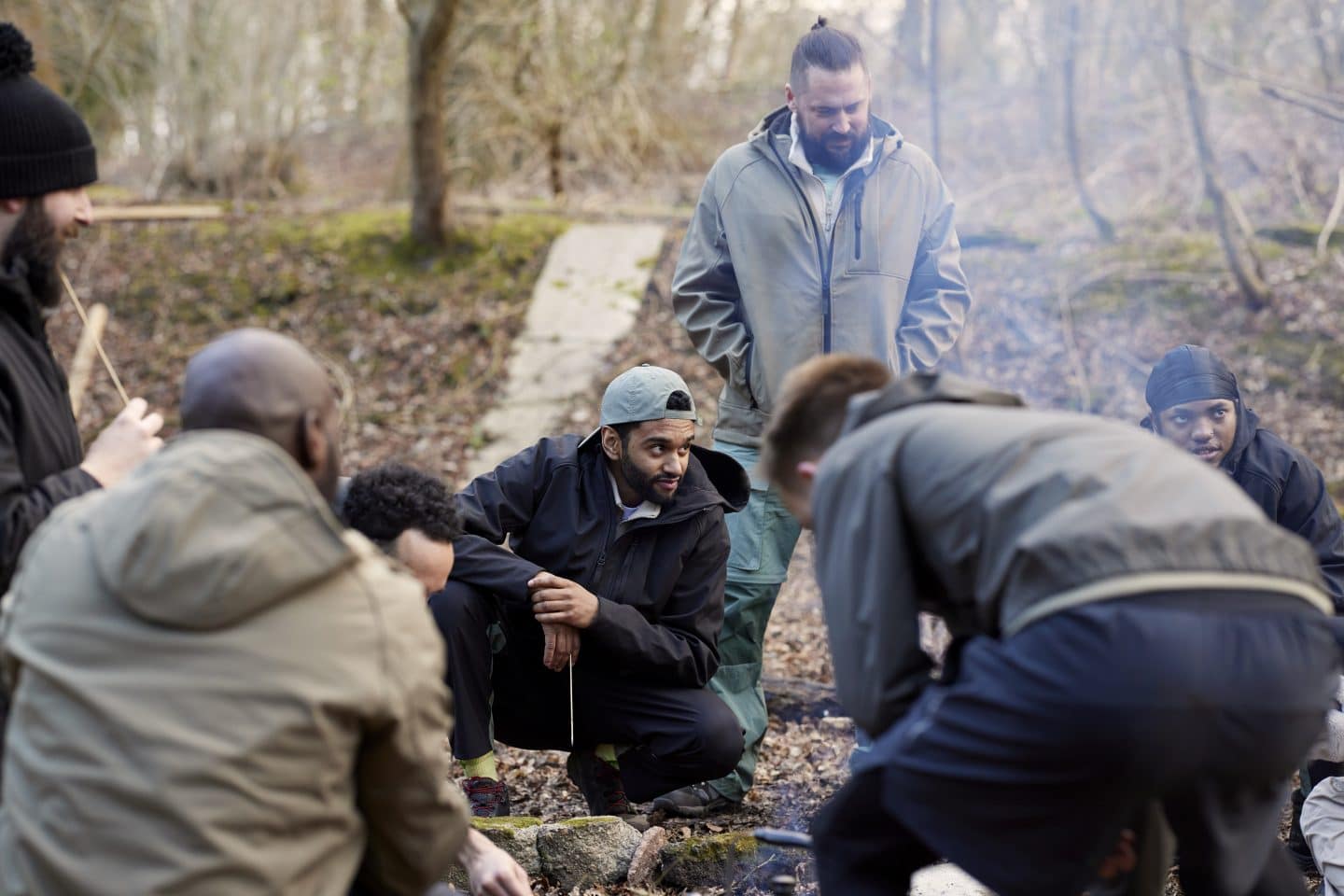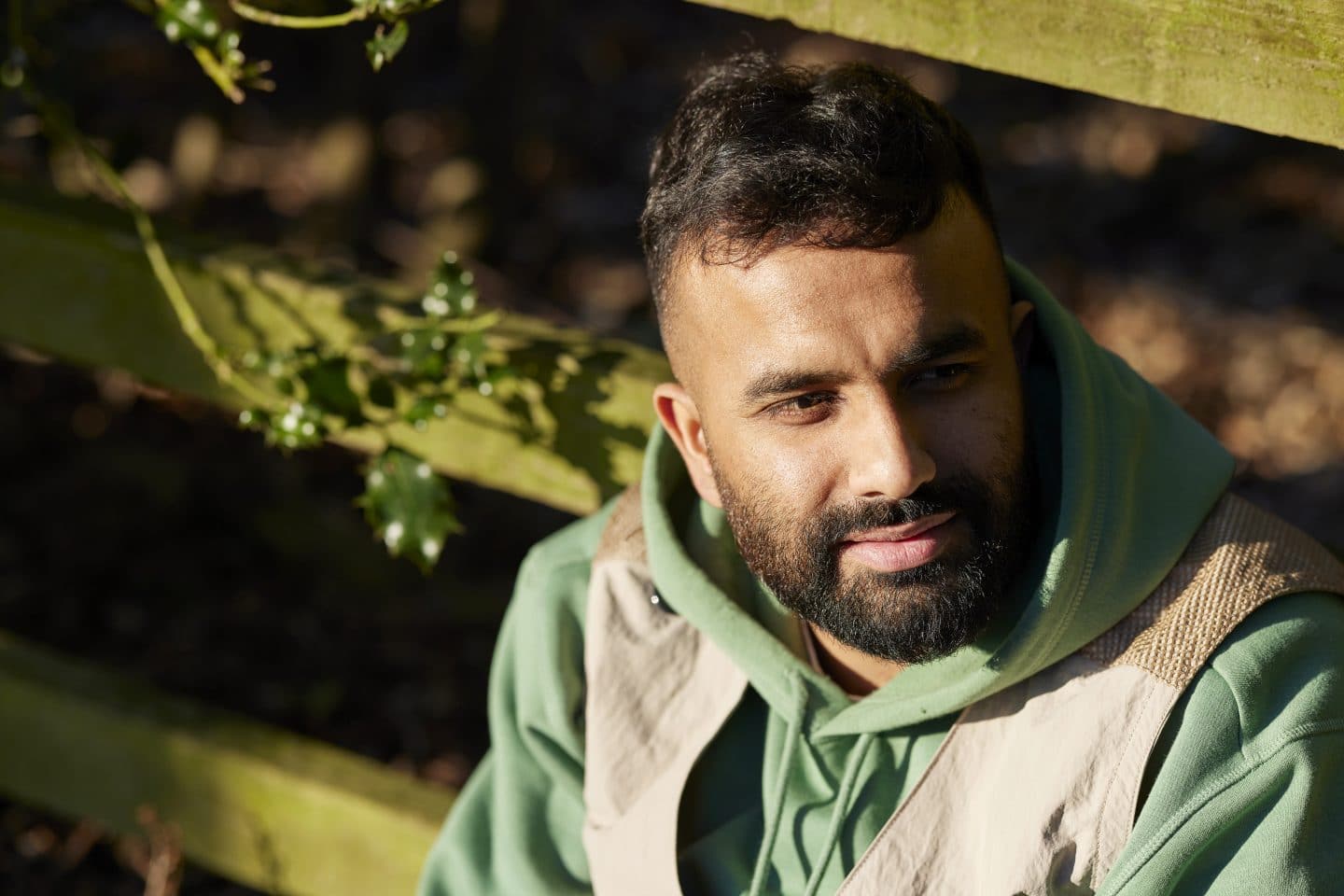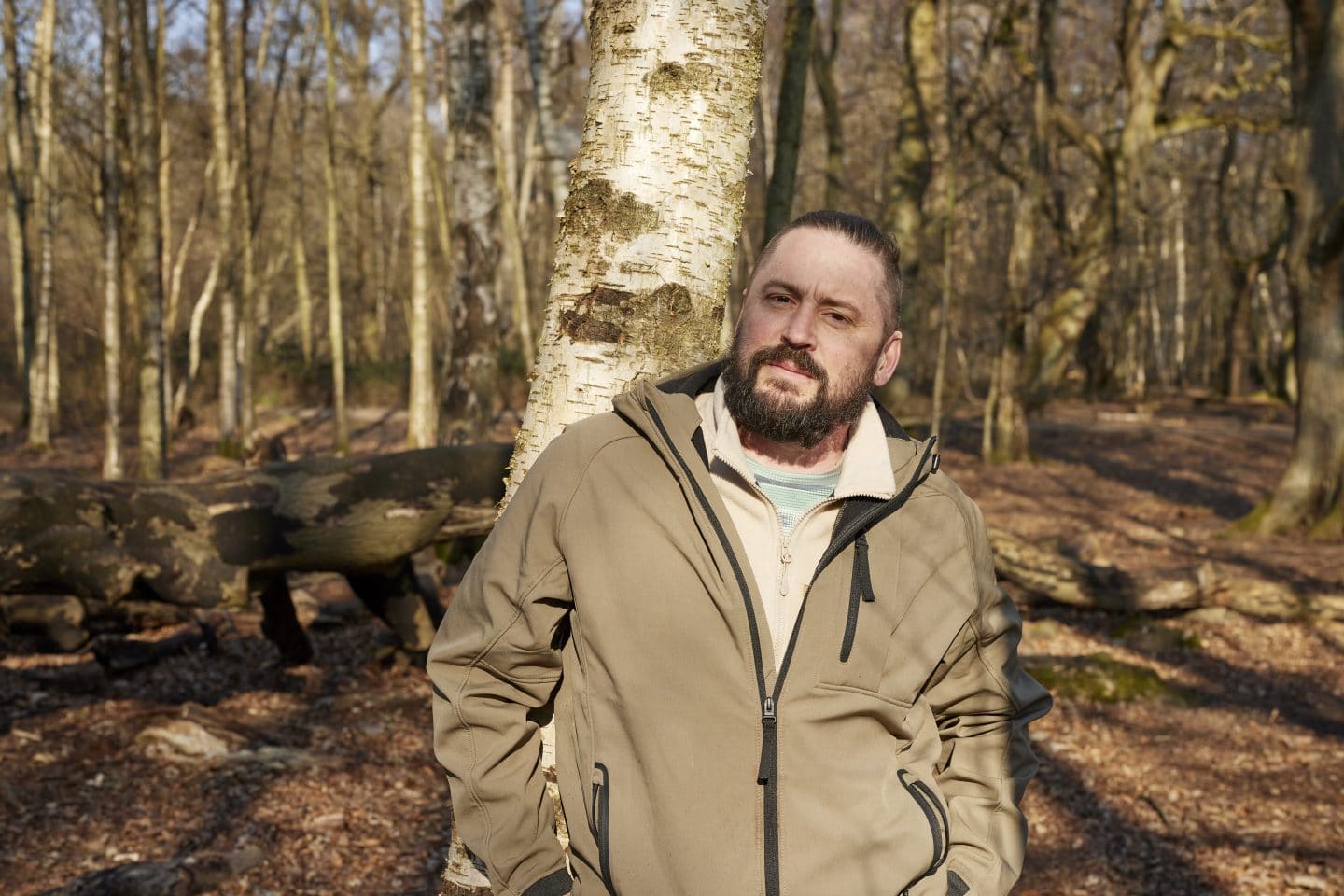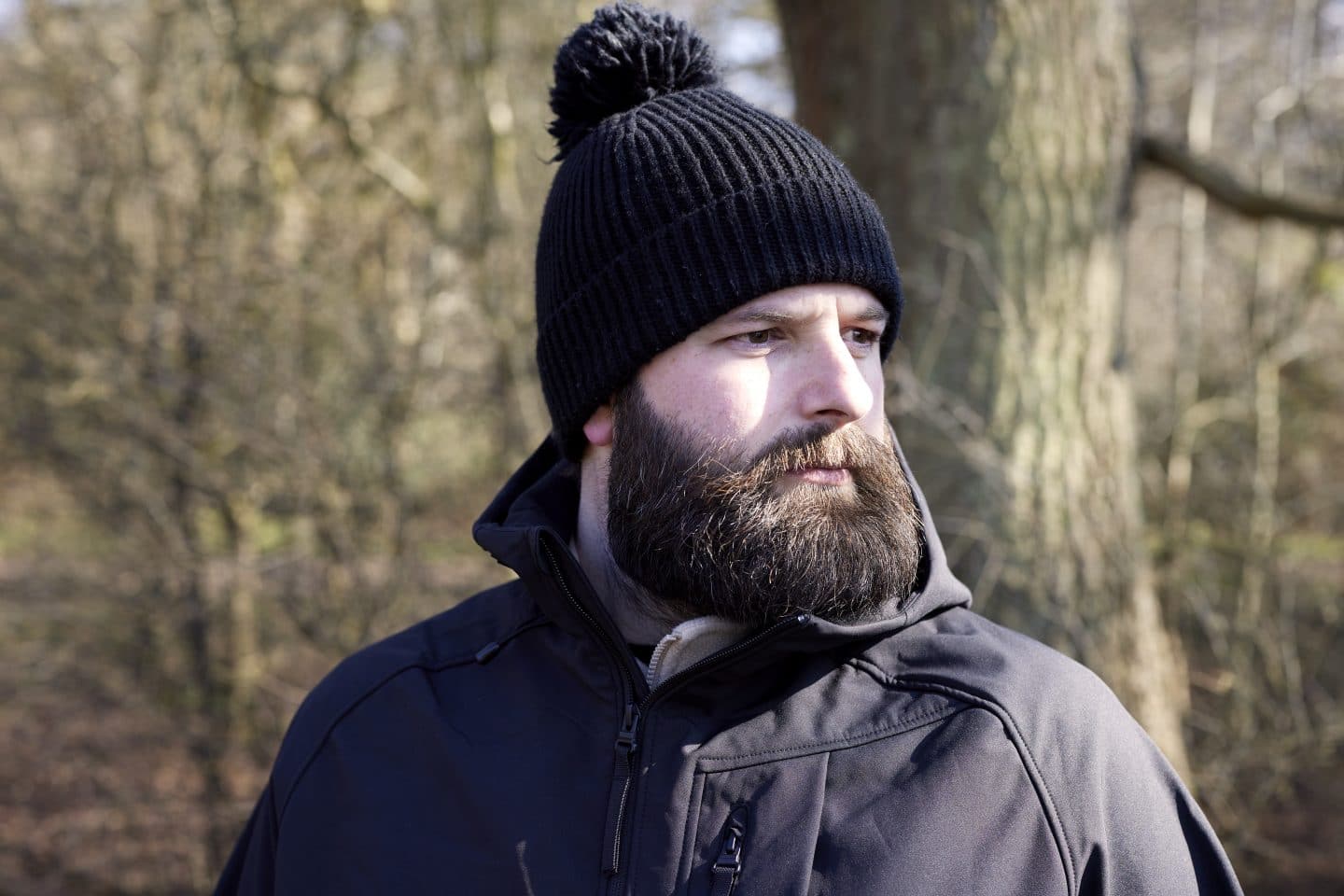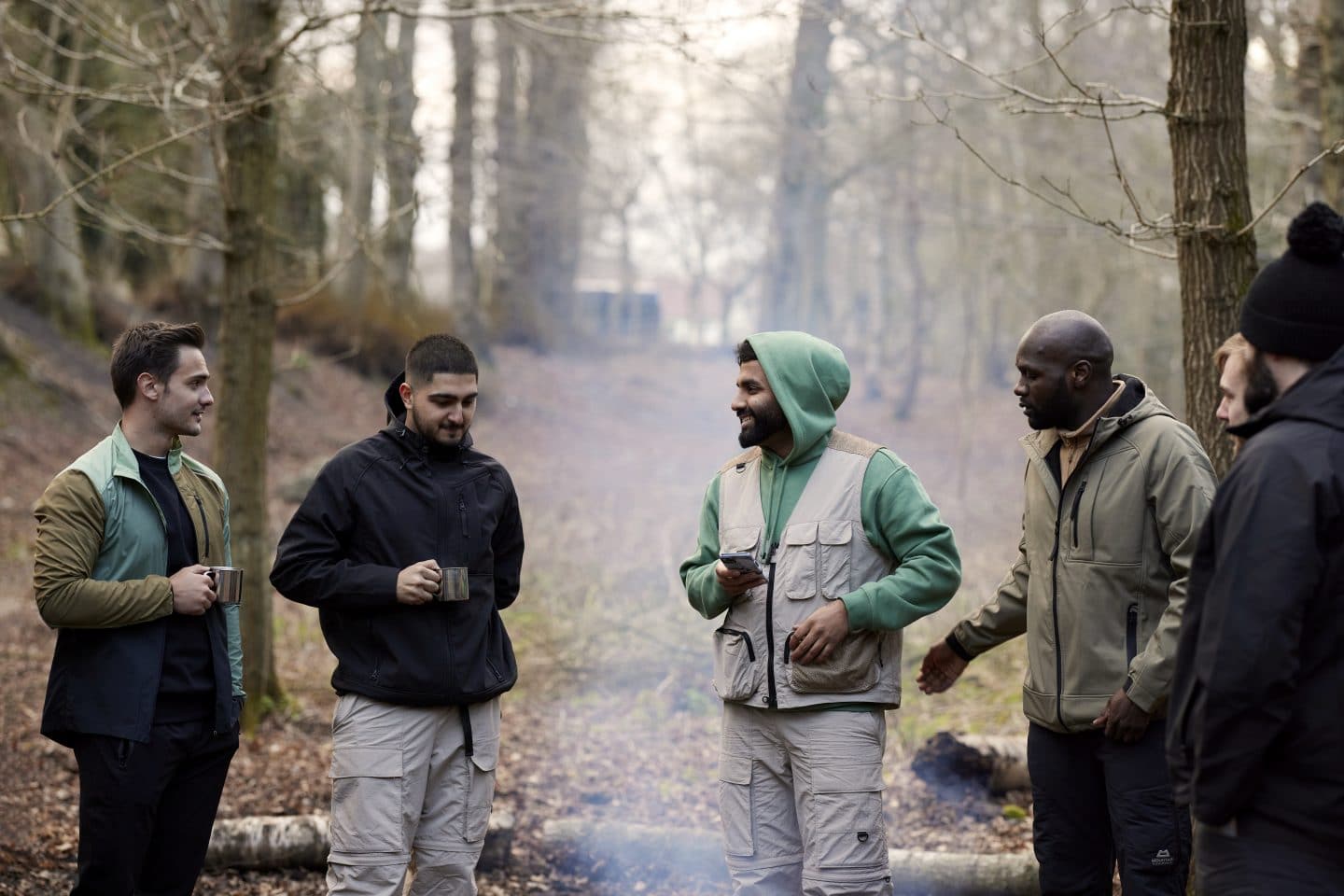 Photos top to bottom: Kumani; Tim; Vasco, Simon, Tom; Solomon; Kumani, Simon; Hussain; Simon; James; Jai, Hussain.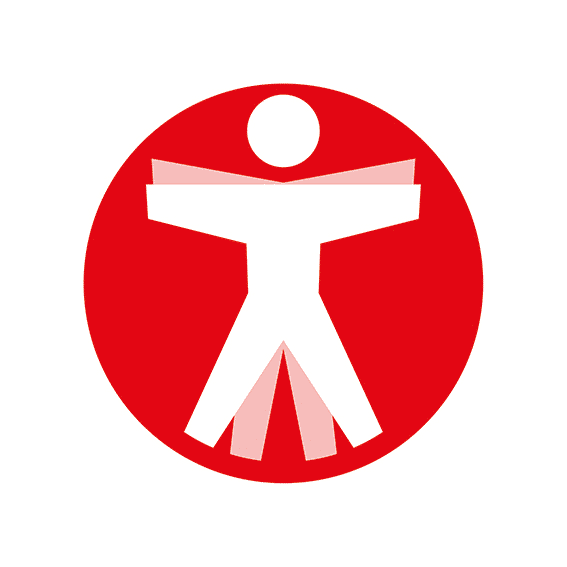 Join The Book of Man
Sign up to our daily newsletters to join the frontline of the revolution in masculinity.