Lucky Saint launch major mental health initiatives
The fast rising alcohol-free beer brand are leading the way in 2022 with some remarkably ambitious plans to bring Mental Health First Aid training and awareness to the industry and consumers.
"Our core belief is that social connection is the greatest reward of drinking, not the alcohol."
For those of us at a certain stage in the post-lockdown 'journey' (these days, that journey is more of a treadmill walk in the living room with the curtains drawn), these words by Lucky Saint founder Luke Boase have a particular resonance. The appeal of social connection is obvious after so long in isolation, but for many of us the idea of boozing, getting messy and feeling terrible as a by-product that social connection – for what other ways are there for us Brits to do meet old friends but in the pub? – is enough to prevent you from getting out there and staying within the comforts of isolation, keeping you stuck in that state of ennui. The idea that you may go to meet friends, enjoy a drink with them, and also remember everything you talked about the next day, really feeling the benefits of re-connecting with them instead of it all being a bit of a blur…well, that seems revelatory. Necessary. We want a bit of that, please…
This is why Lucky Saint are the perfect beer brand for now. The challenger start-up, which launched in 2018, managed to not just survive COVID but thrive in it, reaching a level of acceleration that was a sure sign of a business doing the right thing at the right time. With 50% of UK drinkers admitting to turning to alcohol for mental health reasons during the pandemic, they provided an alternative option, one which importantly had the quality and purpose to keep people returning. "It took a long time for me to develop, but we got to an amazing unfiltered lager that is very closely related to the first golden lager brewed in 1842," Luke says, "The inception point was whether it was possible to brew an alcohol-free beer that's actually great tasting, and secondly, was it possible to build a brand that makes people feel positive about the decision they're making? There wasn't a brand in this category that made me feel proud to order it. People still feel the need to apologise for not drinking. We wanted to put it alcohol-free beer centre stage where people didn't have a need to justify themselves."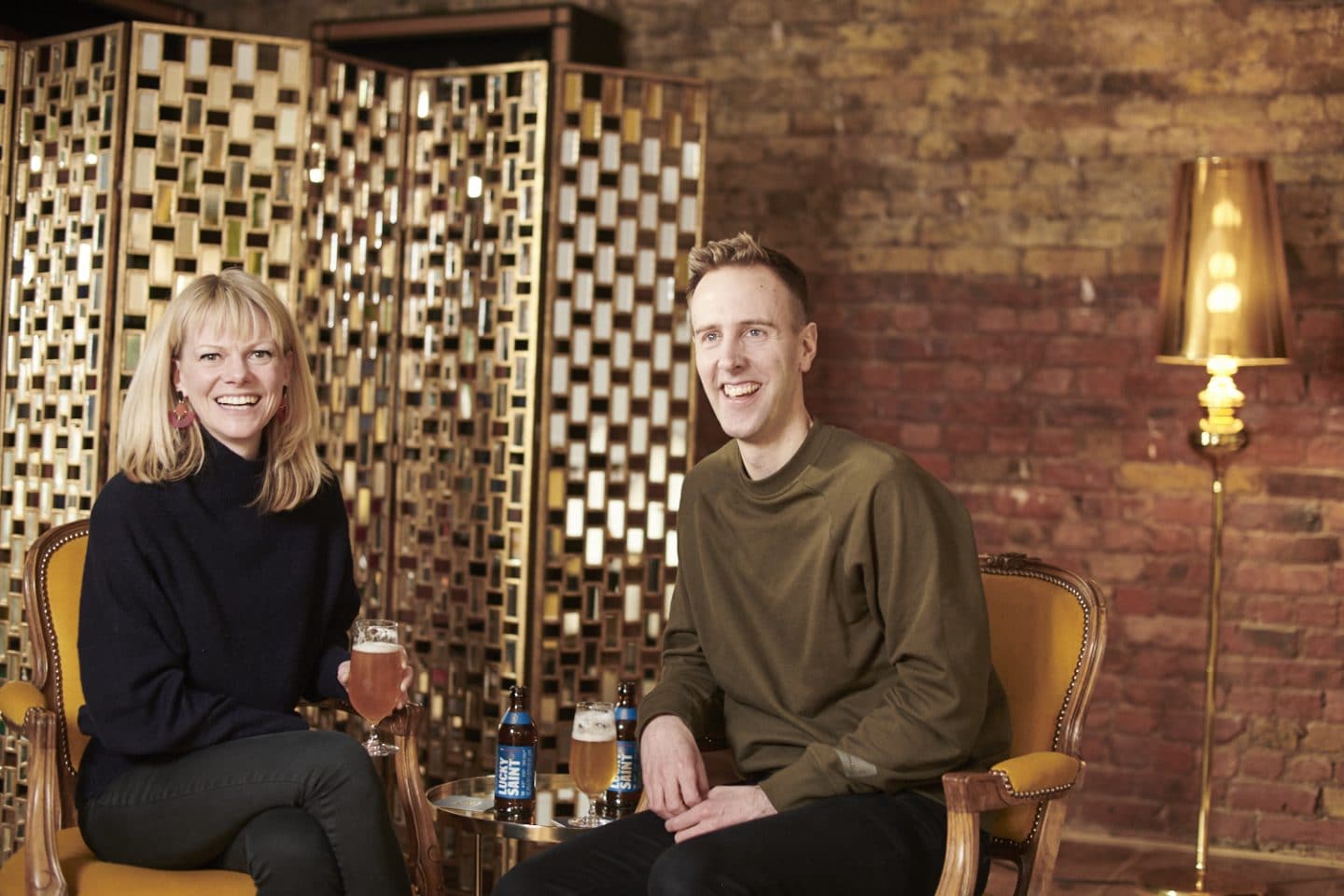 Emma Heal and Luke Boase
Such an approach will certainly continue to be refreshing, if you'll pardon the pun, in the 'post'-lockdown world with its harsh economic realities, and health and wellbeing more valued than ever. But particularly in its relation to mental health, and opening up of space for sober socialising. Working with this has been part of Luke's thinking from the start, but early 2021 saw a breakthrough in this area, after a Lucky Saint team member talked about losing a friend to suicide and the feeling of helplessness at not seeing the signs, that resulted. The prospect of Mental Health First Aid training, one which serendipitously coincided with new MD Emma Heal meeting one leading mental health campaigner via clubhouse (remember that?): Harry Corin.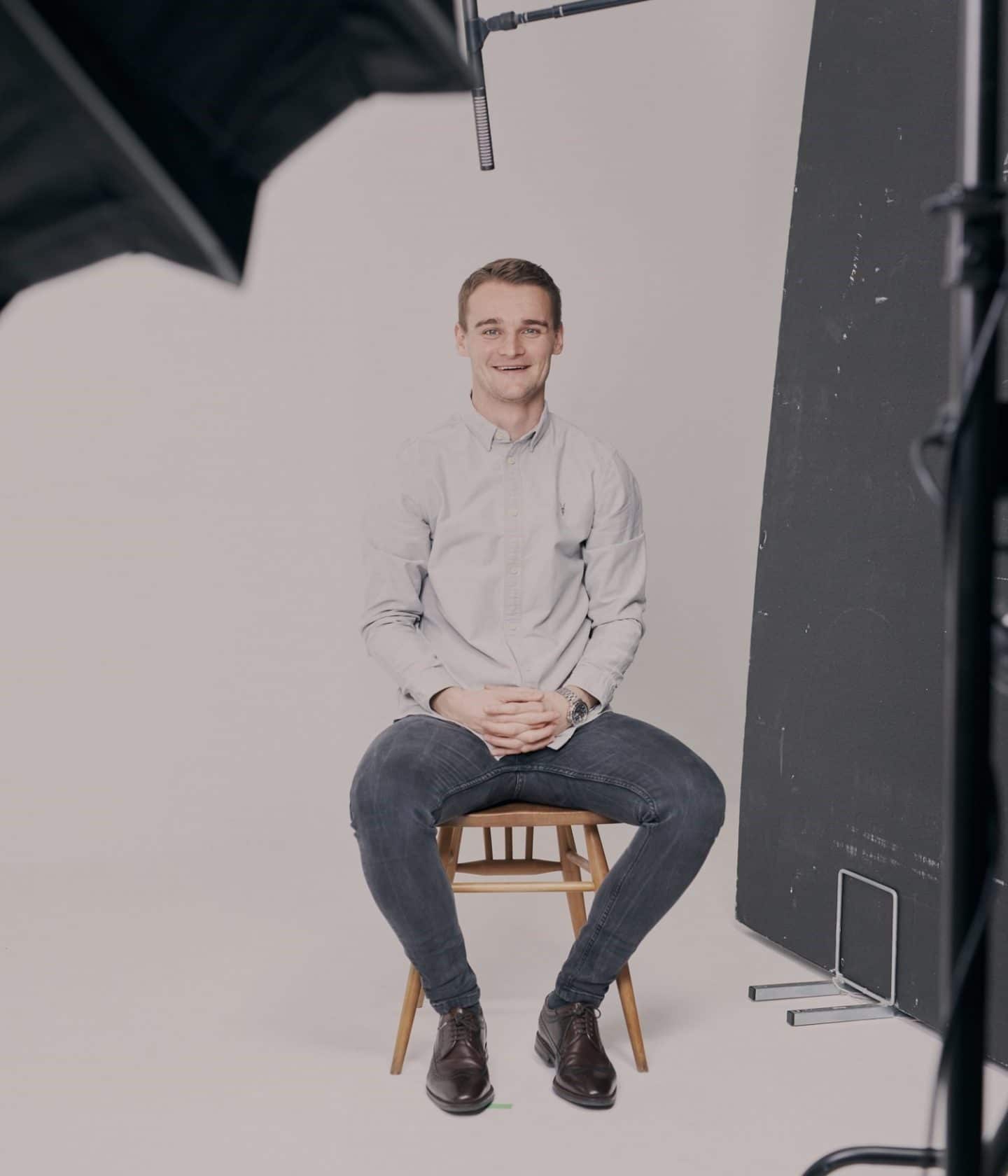 Now, Harry is well known to Book of Man readers, a campaigner who is a true inspiration in his work in opening up conversations around mental health – he also happens to be a qualified Mental Health First Aid instructor (certified by MHFA England). Having connected with Emma, he was welcomed into the business to deliver his training and found a highly receptive wider team at Lucky Saint, a brand he already had an affinity for following some difficult life events which he desperately needed sobriety. "Mental health training can be daunting for some people," Harry told us, "It is intense, but you build up a level of trust in which you can open up about your experiences. And I really connected with the team – I knew what Lucky Saint stood for and what it had meant for me – and had a powerful couple of days in which they really got it, understood it and wanted to make a difference. It opened the door to the work we'll be doing now, which is making a huge commitment that's even greater than us as a team."
Indeed, Lucky Saint, after benefiting from the training (Luke: "There was the obvious thing that we are there for one another as a team, but there was the realisation of what we can do for our own mental health too. Often, there's a blind spot over this stuff.") have now appointed Harry as their Mental Health Champion and, impressively, have unveiled plans to provide hundreds of people in the hospitality and retail industry with Mental Health First Aid training, from bartenders to CEO's ("This only works when you train people all the way through the business," says Luke).
Poor mental health costs UK employers up to £45 billion a year, but more importantly, with 1in4 affected in this country, it leads to considerable person strain on a lot of people. In providing training for staff in the food and drink industry, starting with the team at Honest Burger – Luke's first ever customer for Lucky Saint – they are taking a direct action approach which will have ongoing effects. Says Luke, "It's hugely exciting to have Harry joining the business to lead on this, and is a sign of the commitment we're making. We have hundreds of people lined up to train next year, and those people are going to be in touch with thousands more. The ripple effect it will produce is huge. This is just the beginning."
A further sign of that is a new partnership with the Campaign Against Living Miserably, who have been named Lucky Saint's Official Charity of 2022. The suicide prevention charity who have done so much to bring the mental health conversation to national attention, are going to make perfect allies for normalising mental health discussion and providing actual support. From our perspective, being able to reach men where they like to be – as opposed to demanding overnight changes in habits – is critical here, and Lucky Saint's values of responsible drinking, rather than the zealotry of abstinence, means they can encourage people to enjoy the good aspects of pub culture while offering a more clear-headed experience for those who want it. And, handily, with Lucky Saint's initiatives in place, the people behind the bars will be trained in Mental Health First Aid, creating this positive perfect storm of change. Cheers to that…
Follow Lucky Saint on Instagram: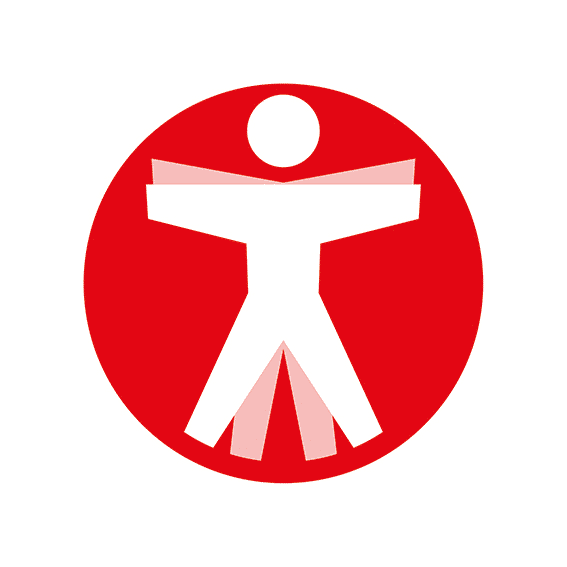 Join The Book of Man
Sign up to our daily newsletters to join the frontline of the revolution in masculinity.